Restoration Company in Redding, California Goes Personal!
5/5/2022 (Permalink)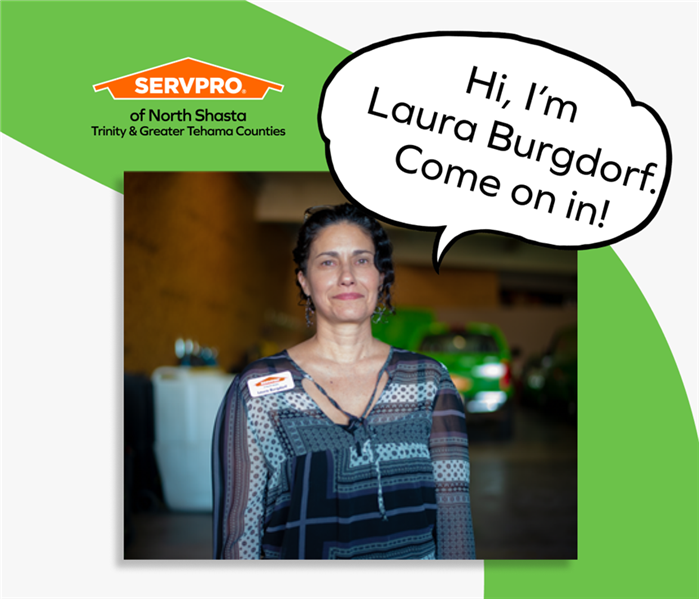 image of Laura Burgdorf marketing/sales manager welcoming you to come get personal with a local restoration company in Redding California. SERVPRO!
According to Red Crow Marketing, an average person is exposed to 5,000 to 10,000 advertisements a day. No wonder all the logos start to blend in, even when you see a bright green van with a SERVPRO logo on the side.
Businesses today do their best to stand out and gain your attention. With crazy commercials, flashing billboards, influencers, and social media superstars fighting for your attention, who do you trust?
Have you ever heard the quote by President Barak Obama that said, "It is moments like these that force us to try harder, and dig deeper, and to discover gifts we never knew we had - to find the greatness that lies within each of us."? Well, taking from his beautiful words, we wanted to take a few moments and allow you to push aside the flashing billboard signs and dig deeper into SERVPRO of North Shasta and discover one of the many gifts we call employees (aka family). We figure what better way to build trust than open our doors and invite you in.
Say hello to Laura Burgdorf, SERVPRO of North Shasta, Trinity, and Greater Tehama Counties sales and marketing manager. Laura has been with us for 19 years. Yes, you read that right, 19 years! Now you are probably asking, why would I read a blog about a person I don't even know? The answer, you invade strangers' lives every day on social media. Why not on a blog? Back to Laura. Like many Redding, California locals, Laura loves the mountains, lakes, and hiking trails that make us gush over our city as well! When asking her why she loves her job? It's you, the potential customer of SERVPRO.
Laura's real-life quote, "I actually love talking to customers and helping to ease the burden of these unplanned remodels, aka unplanned disruptive life events."
Yes, Ladies and Gentlemen, She really is that nice of a person and cares that much! Her personal touch with customers, being there for them even after their services are complete. Whether that is helping sourcing services from real estate agents to HVAC companies, helping them find contractors they can trust, or finding a plumber to help them right away. Laura is our superstar and someone you want in your back pocket when a disaster strikes unexpectedly.
SERVPRO of North Shasta, Trinity, and Greater Tehama Counties isn't just another company. We are brothers, sisters, mothers, fathers, neighbors, and LAURAS. A company that helps by being available 24/7 to get people on the road to recovery after water damage or fire in their home or business. We provide technicians that are trustworthy and ethical to minimize your stress. Stress management is super helpful for your health, so check that off for another reason to use us next time you have an unexpected disaster in your home or business.
The bottom line is WE CARE! We may not have some "influencer" or "social media star" telling you to use SERVPRO, but we do have a Laura, and our Laura will be there for you in some of your most vulnerable times.
Need a company that isn't just a flashing billboard sign?
Give us a call! 530-222-0200