Fire Smoke Damage and SERVPRO Odor Removal
3/20/2019 (Permalink)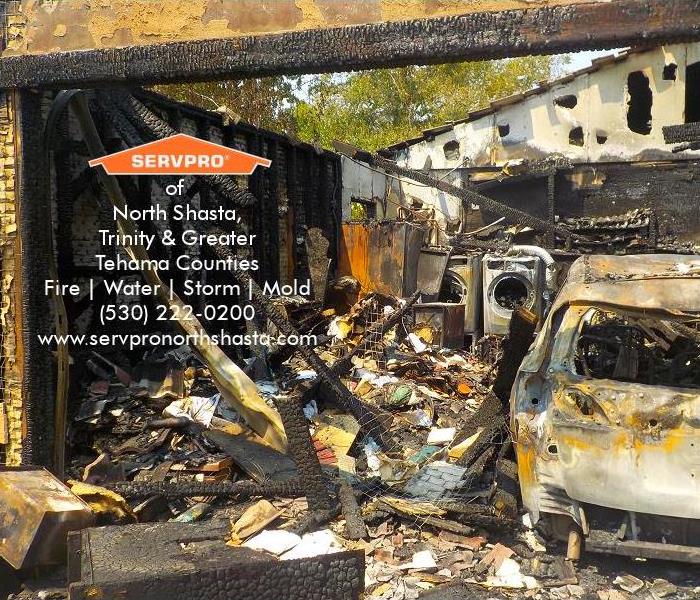 Odor from Smoke and Fire Damage? SERVPRO of North Shasta, Trinity & Greater Tehama Counties is Your Solution! Call Now! 530-222-0200
Smoke can linger in your home after a fire and can damage your belongings.
The City of Redding and Shasta County, California home and property owners know well the lingering odor and persistent ash deposits from recent local fires, such as the Carr, Delta, Hirz, Camp and many others. Smoke enters attic vents, ventilation ducts and air conditioning systems to permeate furniture, books, electronic circuitry, carpet and belongings. Additionally, health effects can occur from toxic synthetics burned off from automobile tires and far away chemical sites choking air quality from wind driven wildfires.
** More Info: Look us up on Facebook and also read our many highly rated 5 star reviews on Google, Yelp and our website Customer Reviews Page.
SERVPRO of North Shasta, Trinity & Greater Tehama Counties professionals undergo rigorous restoration industry training and know how to get rid of soot and the damage caused by smoke that will be present in a home ravished by flames.
Smoke from home, industrial and natural wildfires, in this age of populations and people encroaching into our local wildland urban interface zones, contain a rich soup of long-chain hydrocarbons, wood ash, rubber, tar, exposed plastics, formaldehyde from burned particle-board home and structure building materials and a plethora of other unnatural and highly toxic smoke compounds sticking to the inside of homes on the walls and ceilings.
After Fire Hazard: Smoke and Ash Odor Inside Your Home and Belongings
Smoke damage can involve more than creating black soot. Most smoke particles, especially with the combustion of synthetic materials, when wet, creates an acidic, oily residue that can eat away and pit metal, such as range hoods, refrigerators as well as sentimental objects like tea sets and tin or silver heirloom items. Our goal as a locally owned and operated SERVPRO Franchise here in the North State is to reduce costs, save and salvage to restore contents and valuables. Many home furnishings and possessions simply need professional cleaning and odor removal. Our certified and trained SERVPRO technicians have the resources and expertise to do just that.
Also, another type of smoke residue requiring detailed attention and specialized cleaning techniques results from Protein Fires. A simple example would be a Thanksgiving Turkey burned in a hot oven. Meat consists of protein and fat. When these burn in an enclosed space such as a home kitchen the smoke and fumes coat every surface imaginable with a hard-brownish protein shell.
Redding residents know all too well the tragic and damaging long term results of area fires.
You need a qualified, professional team to provide fast 24/7-365 fire, water and mold emergency cleanup and restoration to help get your home back to "Like it never even happened" condition for you and your family.
Smoke, Ash and Soot Cleaning – Odor Removal and Deodorization