SEWAGE BACKUP TIPS
12/19/2022 (Permalink)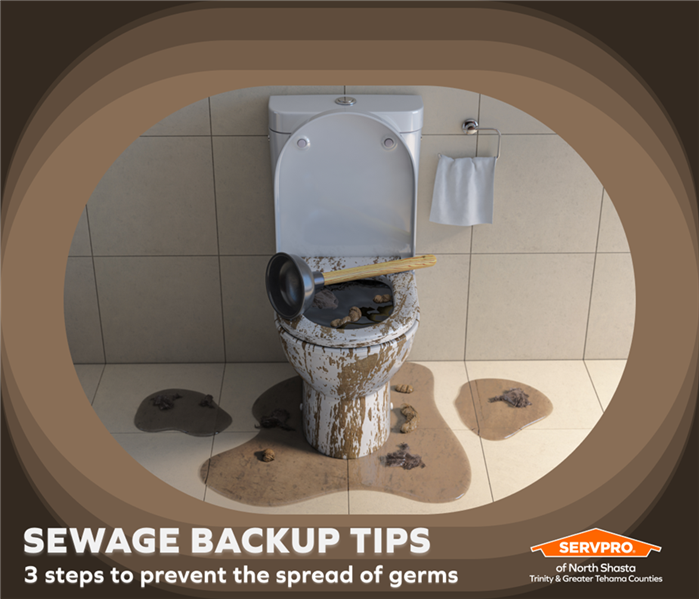 Overflowing toilets with sewage in Redding, CA can be dangerous to your health. Call SERVPRO of North Shasta to disinfect and santize!
With all the holiday parties filling up your schedule and welcoming the extended family into your home, the holiday season definitely adds extra stress to your sewage pipes. Water damage to your home is devastating, even more so during the holidays, but sewage damage... is a whole different ball game.
Water from a backed-up sewage pipe should be considered dangerous and filled with harmful bacteria. These types of bacteria and viruses that the sewage water carries need professional equipment and trained technicians to properly clean, sanitize, and disinfect the area where the water has touched or seeped and absorbed into.
If you experience backup or overflowing sewage pipes during this busy season, here are a few steps to prevent the spread of germs and keep you and your family safe.
Call the Professionals.
SERVPRO of North Shasta has trained water remediation technicians to not only disinfect the area that has been contaminated but also to fully dry the sewage water in areas you may not suspect the water has gone. The presence of moisture alone can cause the growth of mold and wreak havoc in your bathroom or other areas of your house. If you suspect damage to your pipes, call a plumber immediately to inspect the health, age, and possible deterioration of your sewage pipes.
Dry the area
If your toilet has overflowed, grab your rubber gloves and start to dry the standing water. This step applies to any flooded area of your home caused by a busted/frozen pipe, broken appliance, or even storm damage. If you have a shop vac, follow the steps to prepare it for water or other liquids, and use it to remove the standing water. Don't have a high-powered vacuum? Grab some towels or a mop and bucket to help dry the water. Next, turn on all ceiling fans, bathroom exhaust fans, or (if available) grab any box fans or high-powered fans to help the drying process.
Sanitize
After drying the area, next comes sanitation. Sewage water contains harmful bacteria, viruses, and toxins, making it extremely important to sanitize and disinfect every area the water could have touched. For those that have small children, it might be a good idea (once the area has completely dried from the first cleaning) to disinfect it a second time.
Remember, moisture invites mold to grow, sometimes in places that weren't fully dry or where the water crept into that wasn't visible. Depending on the severity of the water damage, having one of our technicians come out with our advanced water detection tool can help with your peace of mind that nothing is growing under the floorboards or within your walls.

If you are experiencing water damage to your home, Call us Today! 530-222-0200