Cleaning up after a fire
11/30/2019 (Permalink)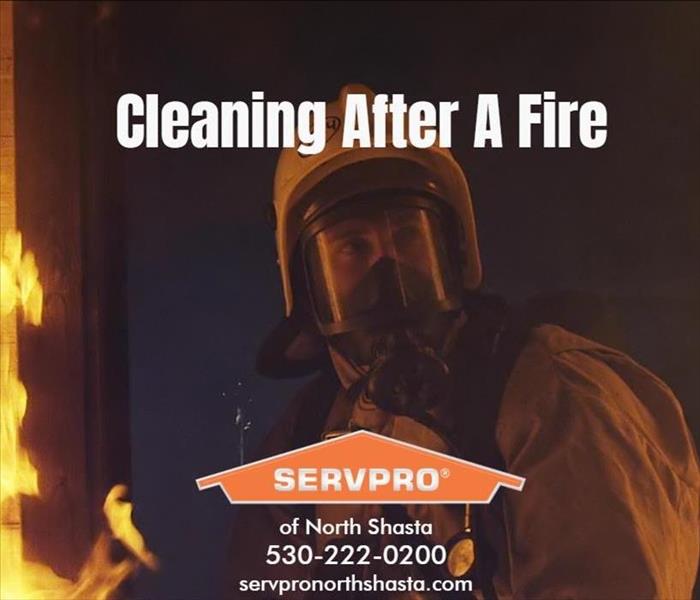 For fire damage clean up, contact the professionals at SERVPRO® of North Shasta, Trinity & Greater Tehama Counties today! 530-222-0200
The dust has settled, you are starting to get your bearings back, now what do you do to put your house back together?
Of course, hiring a professional restoration company is the best answer, but here are some tips in the case that you are unable to.
Fire damage may go beyond cosmetic.
Have your house inspected. Electrical wiring, foundation, and wall supports may have been affected and should be corrected before any cleaning or cosmetic repairs are performed.
Be Aware of Carcinogens.
Much of our household materials are now petroleum-based. When they burn, cancer-causing carcinogens can be released through soot and smoke. Always wear a respirator when cleaning up after a fire, and be fully covered to be as safe as possible. Additionally a
HEPA vac with proper filters and the use of air scrubbers are vitally important to removing carcinogens. The danger of carcinogens is one of the main reasons we highly recommend having a professional restoration company do the work for you!
Soot can become oily, and very hard to remove. Cleaning soot with water may spread the problem rather than clean it. Instead of water, a better idea may be to use a vinegar solution, but even then it can be difficult and may take multiple cleanings to remove the soot.
Checking and getting rid of the remaining materials.
Smoke can penetrate most packaging and the heat from a fire can damage items that may look safe to use. Perishable and non-perishable foods should be thrown out as smoke most likely has penetrated the packaging. Makeup and medicines may have been damaged in a way that can make them harmful and should not be used. Appliances should be checked before using, as the heat and possible water could have damaged the electronics.
Overall, when cleaning up after a fire, it is best to have a professional restoration company do the work for you. Your safety and well being is too important to be put at risk!
For fire damage clean up, contact the professionals at SERVPRO® of North Shasta, Trinity & Greater Tehama Counties today!
530-222-0200