Community Involvement
10/15/2019 (Permalink)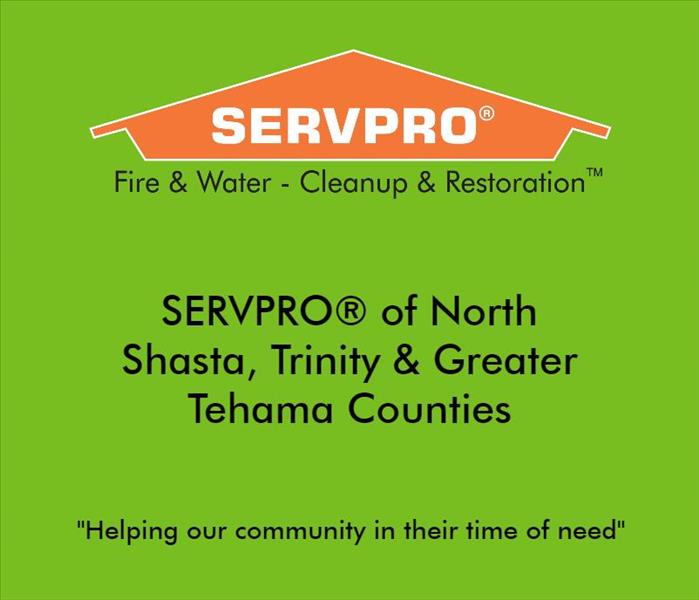 For emergency restoration from a company with professionalism and compassion, contact us today! 530-222-0200
At times it can be hard to articulate the authentic care and pride we take in helping our customers. There have been quite a few situations over the years that have truly moved us, and we felt it was only fair to share some of those moments with the rest of the world!
Here are some words from employees of SERVPRO® of North Shasta, Trinity & Greater Tehama Counties on the community we have helped
Community involvement
Dianna-
An elderly gentleman had water damage in his home and was relocated temporarily to a hotel. He expressed that he was afraid that if laid down flat on the hotel bed he wouldn't be able to breathe well, he mentioned to our staff that he usually sleeps in his recliner. Once our techs heard this, they picked up the recliner on their own time and brought it to the man's hotel room so he could sleep easily.
Susie-
When the Carr Fire broke out, one to the many parts of the North State it threated was our local museum and animal sanctuary. The animals at this park are non-releasable and most are rescued, many of them are native to North America and Redding in particular. When we heard the facility was being evacuated and nearly 70 animals were in danger, we donated our air purifiers to help keep the animals from breathing the toxic air.
Tracy-
After doing extensive research, we learned about how much danger firefighters and their families are in after a fire. With the majority of building materials being petroleum-based, the ash is made of very dangerous carcinogens which causes cancer. SERVPRO of North Shasta donates hospital-grade disinfecting wipes to all the fire stations in the area. These wipes are used to clean the turn out gear and stop the spread of the cancerous carcinogens. Our community's safety is always our top priority, we are always happy to help in any way we can.
Laura-
Our team came across the SHIELD Training organization. This is a new training organization and facility that incorporates all forms of Law Enforcement, Fire personnel, and Paramedics. This facility holds all training courses required for all fields and can also be used as an additional substation for a large emergency operation. SHIELD is holding a large black-tie event; our staff is donating time to gather donations and create their promotional videos and social media.
It's amazing to see how much can be accomplished in the community when we all come together. SERVPRO® of North Shasta, Trinity, and Greater Tehama is happy to be a part of the community and help in any way we can.