Mold, it's Everywhere!
2/21/2022 (Permalink)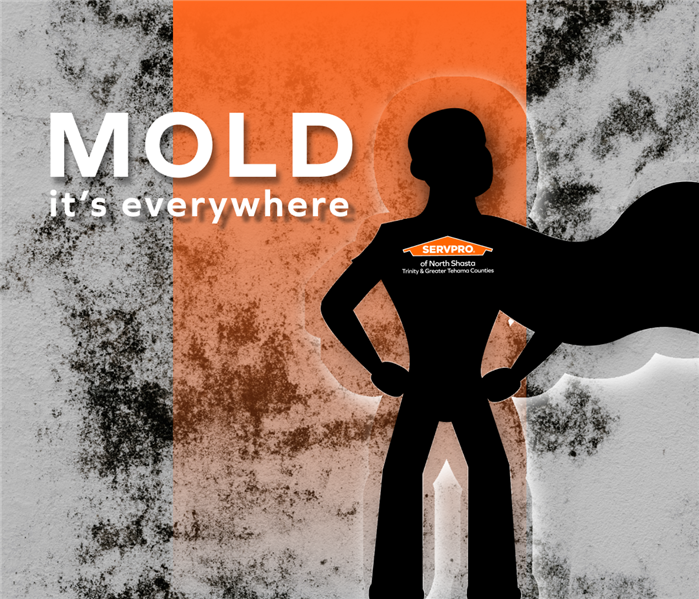 Mold in Home or office in Shasta county, inspected by Guzi-West inpsection and consulting and cleaned by SERVPRO of North Shasta.
When we think about having a "mold problem," we envision a torn-out wall filled with hairy black stuff starting to creep and grow where it doesn't belong.
Quick question, did you know mold is everywhere? It's common to find it in almost every business or home, making mold a "common" irritating buddy in life. This leads us to the question, who can you trust when your mold buddy turns friend to foe? Well, who do you call when the city is in trouble? The superheroes and Guzi-West inspection and consulting are the superheroes of mold. Pair them with SERVPRO of North Shasta, Trinity & Greater Tehama Counties, you have a dynamic duo that can inspect, remove, and clean that allergy-causing mold from your home.
Our homes are supposed to be a retreat from life. A place where you have game nights, cozy romantic dinners, and where you raise your family. Home should not be a place you share with mold and allergies.
Here's our advice to make sure your unwanted friend doesn't unpack his suitcase and make himself cozy.
Check for leaky pipes or appliances.
Mold's favorite companion in life is moisture and it will seek out a place to live in the right environment between the temperatures of 40 and 100 degrees F. If you see mold around pipes, plumbing fixtures, waste lines, etc., you probably have a leak. Identifying the leak and having it repaired is extremely important. Having a routine maintenance check for your appliances or pipes can help prevent having a mold issue.
Controlling Humidity Levels
One of the most common places to find a type of mold is in your bathroom. Heavy steam can cause a lot of moisture in the walls, floor, and around your tub and toilet. Running your exhaust or ventilation fan while in the shower can help keep the humidity levels in your bathroom lower.
Keep your gutters clean.
Keeping your gutters clean can prevent clogs and eventually prevent water damage and mold. Regularly removing all leaves and debris from your gutters can keep your house's foundation free from mold.
Thoroughly clean and dry out flooring, walls, and cabinets after flooding.
If the flooding is extensive, drying out your home might be a bigger job than you can handle. Call the professionals like SERVPRO of North Shasta, Trinity & Greater Tehama Counties. Mold can grow in as little as 48 hours of flooding, so you need to dry that water fast. We care about your safety and your home. Check out this blog on how we handle your home after a flood.
Suspect your home has a mold issue? Get your house tested!
Guzi-West Inspection and Consulting can test for mold, asbestos, methamphetamine, lead-based paint in your home. Schedule your quote today and breathe easier (literally).

For more information on mold, check out our website or Call 530-222-0200.