How Water Damages a Redding, California Home
7/25/2018 (Permalink)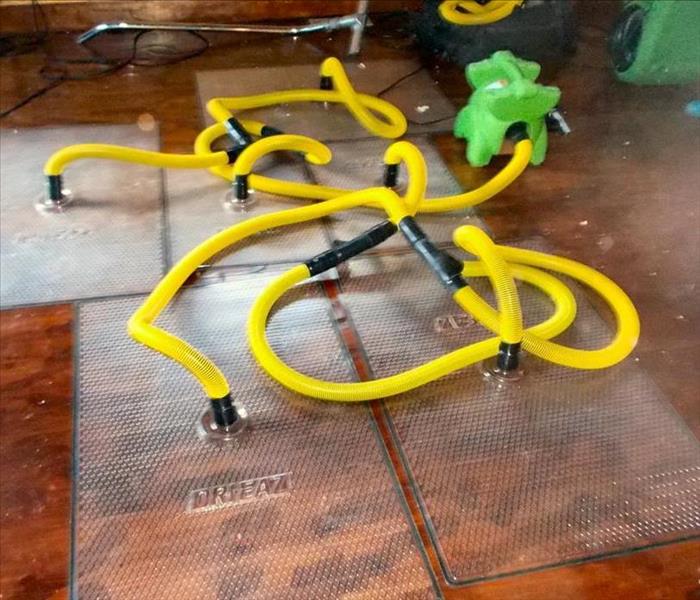 Water Damage Can Occur Suddenly! SERVPRO of North Shasta, Trinity & Greater Tehama Counties offers world-class emergency water damage clean up!
Modern Shasta County homes that retain heat also retain humidity and moisture from water leaks in the structure. Moisture leads to mold which leads to toxic indoor air quality particularly within the closed-loop of residential heating and air conditioning systems (HVAC).
Chimney flashing, unsecured roof shingles, clogged flat roof drainage and rain gutters collect water. Pulled by gravity the moisture seeps into attic and insulation areas onto ceilings and down walls. Heavy wind during Northern California storms pushes water into unsealed spaces. Doors and windows provide likely rain water access to not only openings and cracks but also into the heated air space of a residential living area.
A toilet water line ages and breaks releasing water into the carpet, tile or linoleum flooring. Shower pipes release water into the bathroom drywall. Our SERVPRO technicians see these types of plumbing failure often. Regular homeowner maintenance on bathroom plumbing fixtures, many times, prevents unexpected catastrophic flooding especially during a property owners absence like a vacation.
We at SERVPRO take water leaks and intrusion very seriously! Phone us night or day at (530) 222-0200. The goal of our fast response is to stop the damage to you home and property.
Foundation water drainage, loose door and window flashing
Unseen water damage and moisture buildup produces seasonal effects. Heat allows unevaporated water to produce mold and mildew. Winter cold produces frost and ice expansion of structural components. For example, the glass seal on a window unit can fail from contraction and expansion. All structures, new homes and old homes experience some level of water damage somewhere.
Moist humid air finds a path into attic roofing hatches and many other random structural gaps. Many homeowners are not aware that even a small air gap, over time, can accumulate vast amounts of residual water vapor creating a nourishing dark environment for mold and fungus growth. Because attic air leaks are hidden the damage is revealed much later than an obvious leaking toilet resulting in a different degree of damage.
SERVPRO of North Shasta, Trinity & Greater Tehama Counties has the drying, cleaning and sanitizing experience and equipment necessary to effectively mitigate any degree of catastrophic to minor water loss.
A home's walls are made of several different layers of material. Masonry, stucco or fiber cement siding usually make up the first layer of exposure to outside rain and storm water. These materials become saturated with rain which seeps into the unseen interior layers of plastic vapor barriers, drywall and internal vinyl wallpaper and latex paint. When the sun comes out the warm temperatures push accumulated moisture inward.
Visit our Water Damage Repair and Restoration page for more details.
SERVPRO of North Shasta, Trinity & Greater Tehama Counties is committed to fast response and treating you, our customer, as the top priority.
We have multiple 5 Star Reviews on Google, Facebook and Yelp from satisfied Redding, California and surrounding area customers.
Phone us anytime for any water emergency!
(530) 222-0200