Fire Damage and Redding Home Preparedness
7/16/2018 (Permalink)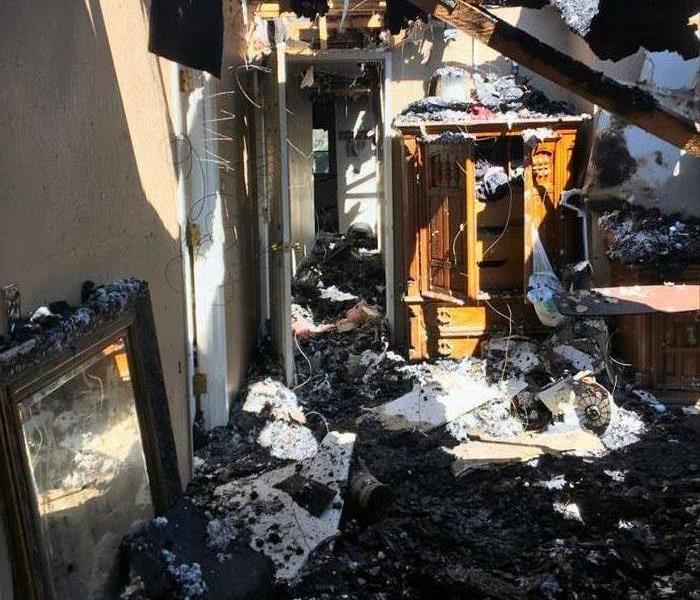 Fire Damage Repair, Clean Up, and Restoration in Redding, California and Shasta County - (530) 222-0200
SERVPRO of North Shasta, Trinity & Greater Tehama Counties believes that the best fire damage defense of your home and property is preparation.
The following key points help homeowners to fight fire before is happens.
Defensible Space: Clear space at a minimum of 30 feet between your home or building structure and the high-risk fire prone combustible brush, trees and vegetation area that surrounds it. The cleared area provides a buffer between you home and the fire. Creating defensible space serves the dual purpose of increasing structural survivability by reducing radiant head and reducing the exposure to direct flame.
www.firewise.org/resources/firefighter.htm
Burning Embers: Although you home may have cleared space during a fire windblown ember create another direct threat. Believe it or not most of homes and buildings within a major fire event are not destroyed by direct fire contact but rather from embers blown onto roof shingles and into attic crawlspaces through vents in heavy wind. These burning brands and yellow-hot embers are blown great distances from the flames of the fire front. These wind-driven sparks fall upon unchecked piles of combustible materials – wood, brush, chemical and fuel storage areas and often smolder and go undetected until igniting.
Look at this video by the National Institute of Science and Technology of their "Firebrand Generator". It blows hot embers or "firebrands" into a test chamber to model the behavior of high winds during a real wildfire as sources of ignition for homes and structures.
Hardening Your Home: Doors and windows are not the only access point into a home. Structural changes to unseen entry points like roofs, vents and eves, can potentially increase a home's chance of surviving a fire.
The Home Ignition Zone: Step back and look at the entire surroundings including neighboring homes, fences, land topology, trees and vegetation, water sources and fire fighter access to the high-fire hazard areas. Preparedness considerations include the following:
Rain gutters collect dead leaves, debris and pine needles that can catch wind-blown embers.
Embers can penetrate missing or loose roof shingles. Replace or repair.
Install 1/8-inch metal mesh screens in the eaves and exterior attic vents to help prevent hot coals that could blow through vents.
Enclose patio and deck overhangs with wire mesh or screens. Also check windows and window screens for damage and openings where and ember could ignite combustible materials.
Check exterior walls for debris and remove accumulations of mulch, flammable plants, leaves and needles, firewood piles – anything that can burn. Remove anything stored underneath decks or porches.
(530) 222-0200
Also Follow and Like Us on our FaceBook page at: https://www.facebook.com/SERVPRONorthShastaTrinityGreaterTehamaCounties/