Mold Cleaning in Redding, CA and Shasta County
7/2/2018 (Permalink)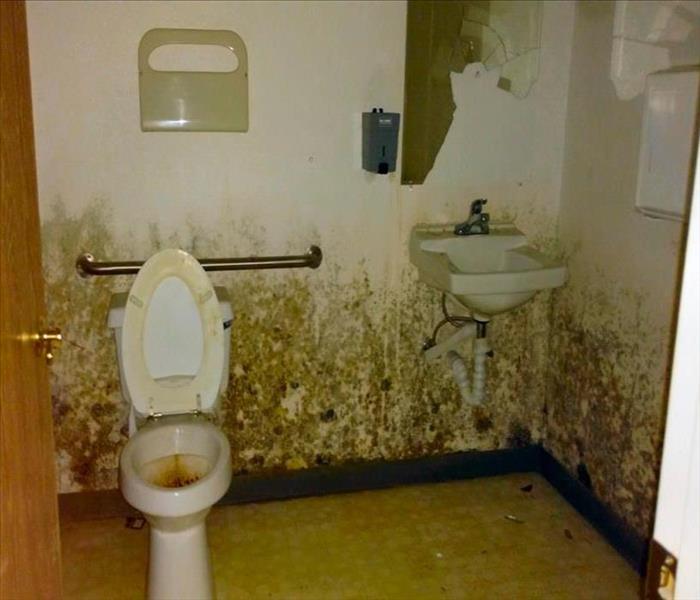 Severe Mold Infestation! Call the Mold Experts - SERVPRO of North Shasta, Trinity & Greater Tehama Counties - (530) 222-0200
Does you home or business have a mold problem?

Mold remediation essentially reduces the mold outbreak spore count to what is known as a "natural base line." Mold spores occur naturally both inside and outside businesses and homes. Mold removal is in fact a drastic "clean up" and reduction of mold growth in a particular area through water and moisture drying and application of mold inhibitors.

SERVPRO of North Shasta, Trinity & Greater Tehama Counties would like you to consider the following mold facts:

• Mold is found almost everywhere, indoors and outdoors.

• Microscopic mold spores travel through the air. These may enter you home through doors, windows, air conditioning and heating systems. Pets and unwashed or wet clothing can certainly introduce a variety of fungus and mold spores to living and work spaces.

• Mold spores feed and grow on moisture. Mold spores can quickly grow into colonies when exposed to water and may produce irritants and allergens.

• Before mold remediation can begin, any sources of water or moisture must be addressed. Otherwise, the mold may return.

• Mold often produces a strong, musty odor and can lead you to possible mold problem areas.

• Keeping indoor humidity below 45 percent can reduce and offset ongoing mold growth.

SERVPRO of North Shasta, Trinity & Greater Tehama Counties can inspect and assess your property and use our specialized training, equipment, and expertise to remediate your mold infestation.

If You See Signs of Mold, Call Us Today – (530) 222-0200