Mold, Moisture, Damp Indoor Home and Commercial Spaces
6/1/2018 (Permalink)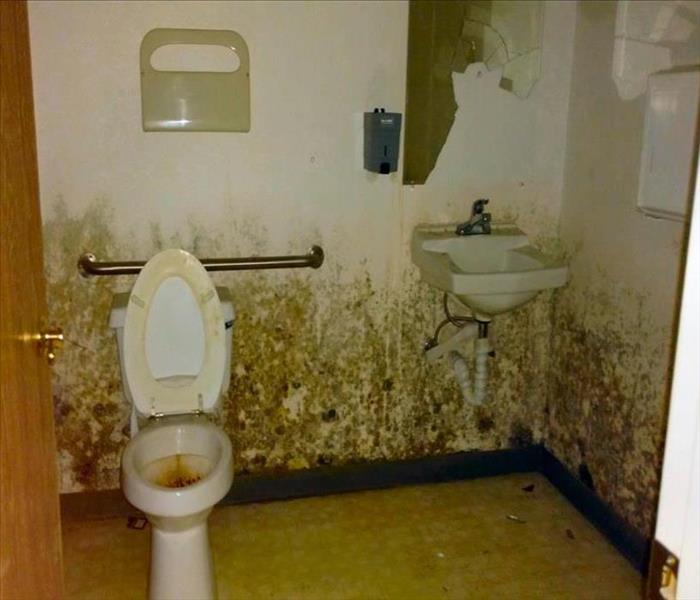 Extreme mold infestation. Phone SERVPRO of North Shasta, Trinity & Greater Tehama Counties! (530) 222-0200
Apartments, condos, homes and commercial buildings, at some point, will experience leaks, flooding, or other forms of destructive indoor moisture damage.
Dangerous personal health consequences can result from exposure to mold and microbial growth as well as the chemical fumes released by home furnishings, building materials and commercial facility equipment. SERVPRO of North Shasta, Trinity & Greater Tehama Counties mold experts utilize the proper personal protective equipment (PPE) and disinfecting products (like SERVPROXIDE™) to kill fungus and toxic "black mold" growth.
Modern buildings contain closed ventilation HVAC systems. However, moisture build up and long term, repeated, water damage produces a nutrient-rich environment reaching a tipping point for mold (fungal) proliferation. Office workers, in particular, because of the artificial "closed-loop" commercial air conditioning systems often are exposed to highly toxic levels of fungal spores, cell fragments, microbes and mold spores. Mold can cause health effects.
It is found everywhere. Lurking in the dark, unseen area of personal work and living spaces. Be aware of musty odor, water spots and intrusion, high indoor humidity and indoor-outdoor temperature variations produces large amounts of condensation around window and door frames. Mold outbreaks can produce concentrations of Cladosporium, Penicillium, and Aspergillus spores which could cause health effects.
SERVPRO of North Shasta, Trinity & Greater Tehama Counties is highly aware of the extreme toxic dangers mold can cause to personal health and safety. Our highly trained technicians understand the risks and know the urgency required to mitigate and stop mold growth in its tracks. Please phone us immediately for a fast-on-site evaluation. We are always here to help!
Phone us 24/7 – 365 at (530) 222-0200