Water Damage Clean Up - SERVPRO Expert Tips
5/29/2018 (Permalink)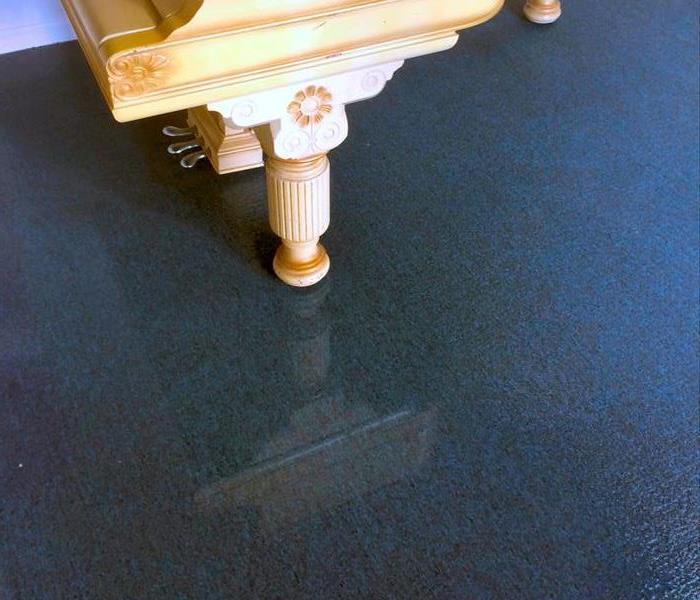 Water leak floods the floor to this piano. Call us at (530) 222-0200 for your water damage emergency.
Water Damage in Redding, CA and Shasta County occurs in many forms.
Safety is your first concern for your loved ones, family, employees, yourself and home or business property. Flooding occurs in many forms; heavy rain pouring in through an unknown weakness or leak in your roof, a frozen or old broken water pipe and certainly what we don't think about on the other side of water damage is the extinguishing of a structure fire and the resulting acidic-soot slurry produced by the soaking and wetting-down of every last piece of the building to quench any remaining embers. The step after safety is assessing the damage. SERVPRO of North Shasta, Trinity & Greater Tehama Counties is on scene and by your side from the beginning. We work closely with your insurance claims agent and adjuster to quickly take restorative action.
(530) 222-0200
We are all familiar with the phrase, "Too Much of a Good Thing". Certainly, this applies to water. Too much of this essential life-giving substance, at the wrong time, in the wrong place and in the wrong quantity – can take life and destroy property.
The following list outlines the points of awareness.
Wallboard and drywall: Usually the first point of contact for leaking water is the chalk based dry sponge of your bathroom or kitchen wall attached to the floor. Sucking up and consuming water, expanding, tearing and sometimes requiring immediate removal and drying the inner wall area of studs and insulation.
Plaster, Insulation and Solid Wood: All building compounds inside home and commercial businesses that under normal conditions remain dry. Once again, these materials are porous becoming repositories for incoming flooding, loosening, stretching, requiring fast removal.
Particle Board: Particularly dangerous is the glue and chemicals used to construct this material like formaldehyde. Laying dormant these chemicals react to moisture and just like water hitting the fire ash, the residue of commercially manufactured lumber releasing the wet toxic water breaks down the structural composition. Points to ponder.
Carpets and laminated floor coverings: wet foam padding and carpeting will have to be pulled up and away from the drywall. Tile and linoleum flooring, along with accompanying grout and industrial glue will sometimes need to be scraped and pulled up, oftentimes, to remove the wet toxic putty of industrial glue and installation sealants. Because we arrive fast we can, many times, completely save, dryout, clean and restore to a "Like it never even happened" condition much of the carpeting especially individual area rugs (also keep in mind our professional home and business carpet cleaning services).
Your safety and property are at stake. We take care of every step in the process – water extraction, drying, mold remediation, cleaning and sanitizing. SERVPRO experts are your first line of defense when these unexpected water emergencies occur. We are a well-respected and known restoration service provider in the City of Redding, Shasta County, and throughout much of the California North State. We have an extensive track record (look at our Google reviews online) of upholding standards of quality and professionalism that get results and build trust. Your trust!
Call us today at (530) 222-0200
Also – Like or Follow our Company Page on Facebook at: /SERVPRONorthShastaTrinityGreaterTehamaCounties/