Water and Flood Damage Clean Up
4/23/2018 (Permalink)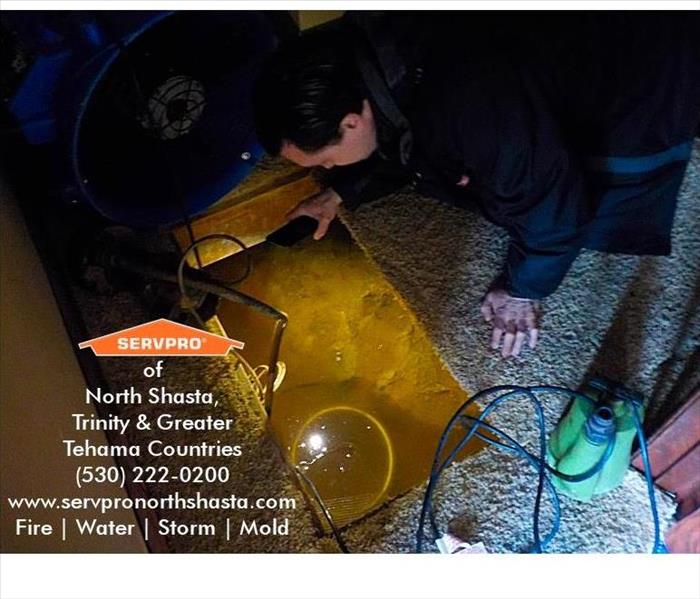 Water and Storm Damage Clean Up and Restoration - SERVPRO Emergency Response Technicians can help. (530) 222-0200
Experiencing water damage? To get help fast, Call SERVPRO of North Shasta, Trinity & Greater Tehama Counties (530) 222-0200
Water damage to your home or business has many causes. Quick action by SERVPRO certified and trained professionals is critical to assess and fix the problem.
Causes of Water Damage
Please download our free Water Damage Customer Information Brochure detailing all aspects of what SERVPRO can do for you throughout the water drying and restoration process.
Household appliances with frequent use and age experience broken water lines or clogging. When your toilet, washing machine, sink or dishwasher flood, SERVPRO can be there quickly to fix the problem and begin water damage restoration.
Throughout our many years of experience in Redding and the California north state, homes and businesses have called us to provide immediate solutions to:
Pipes and water lines freeze, break and leak.
Drains overflow in sinks, bathtubs and toilets.
Sewage and septic tank lines clog and backup.
Water overflows from dishwashers and laundry machines.
Storms, severe rain and flooding.
Streams and rivers rise above the banks flood onto property.
SERVPRO is always here for you with 24/7 emergency services. Whatever the cause of the water damage in your home or business, we offer a full line of service options to restore your property, including:
Water damage assessment
Water extraction
Drying of affected areas such as walls, carpet, padding and furniture
Cleaning and restoration of possessions such as clothes, linens, books and documents
Remediating mold and mildew damage
Locating and stopping the source of leaking water
Reconstruction services and storm damage repair
We respond quickly to determine the extent of the damage and begin water removal and drying. SERVPRO professionals know how to handle your water damage emergency. For all your water damage restoration and repair needs, call SERVPRO of North Shasta, Trinity & Greater Tehama Counties 24/7 – 356 at (530) 222-0200.