Compassion and Crime Scene, Trauma, Infectious and Biological Hazard Clean Up
12/4/2017 (Permalink)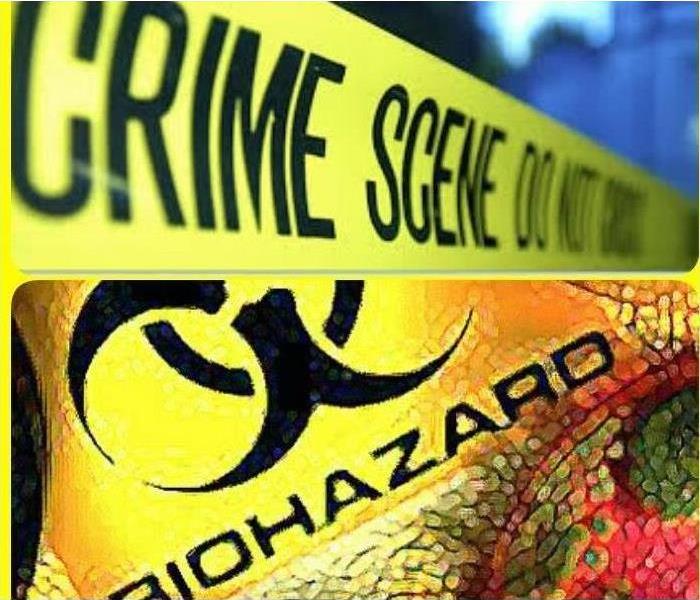 BioHazard | Trauma | Crime Scene Clean Up | SERVPRO of North Shasta, Trinity and Greater Tehama Counties | 530-222-0200
A Shasta County family has a tragic and horrible accident.
An individual dies or suffers severe injury through unattended death, a commercial or industrial accident, homicide, or suicide which has a life-altering effect on family members, employers and the local communities. Biohazard disinfection in these cases would include the cleaning of blood and body fluids, communicable diseases, infection, blood-borne pathogens and toxic chemicals.
A recent article, worth reading, reports that a mother's son died in the home bathroom from a drug overdose. The mother went into the bathroom to clean up the scene and simply by touching toxic drug residue in the area she overdosed herself. Tragedy upon tragedy in this true account. Simply put, this is the very reason that qualified and trained professional like SERVPRO must be utilized as necessary first responders. Biohazard toxic materials can, in fact, become lethal to well-meaning family members.
First responders such as our local Redding fire and police officers, property owners, families, friends, and ultimately insurance agents are all within the crime scene and trauma infectious and biological hazard clean up pipeline. SERVPRO of North Shasta, Trinity & Greater Tehama Counties is considered Northern California's priority responder providing compassionate and professional clean up services. When a body begins to decompose the internal organs and tissues emit gas and fluids which contaminate nearby property, walls, and structural underflooring with toxic agents. For example, carpet typically allows blood to soak through into the flooring. As decomposition continues these fluids can, in fact, transmit diseases such as Salmonella, Cholera, TB, Hepatitis (Type A and B), HIV /AIDS, H1N1 and various Flu strains. Where the scene includes the remains of lab or drug use, Meth or Heroin, provides an additional risk.
Our SERVPRO Technicians are trained and certified in biohazard remediation and disinfection. They utilize special equipment such as personal protective gear (PPE) along with tools and equipment made to contain medical waste. We also have the chemicals necessary to properly sanitize not only blood and biological residue but also to neutralize lingering odors.
Compassionate specialized response is the key in these situations of unexpected trauma. When our local community knows that SERVPRO has the best interests of families in mind this can ease the emotional pain of the tragedy. Characteristics like kindness, understanding and compassion along with the training, experience and equipment to remediate and disinfect a home or business back to it's original state come together with the utmost professionalism in the clean up process.
SERVPRO of North Shasta, Trinity & Greater Tehama Counties
"We are here to help" (530) 222-0200 Open 24/7 – 365 Days A Year