DOES YOUR HOMEOWNERS' INSURANCE POLICY COVER FLOODING BY STORM DAMAGE?
12/12/2022 (Permalink)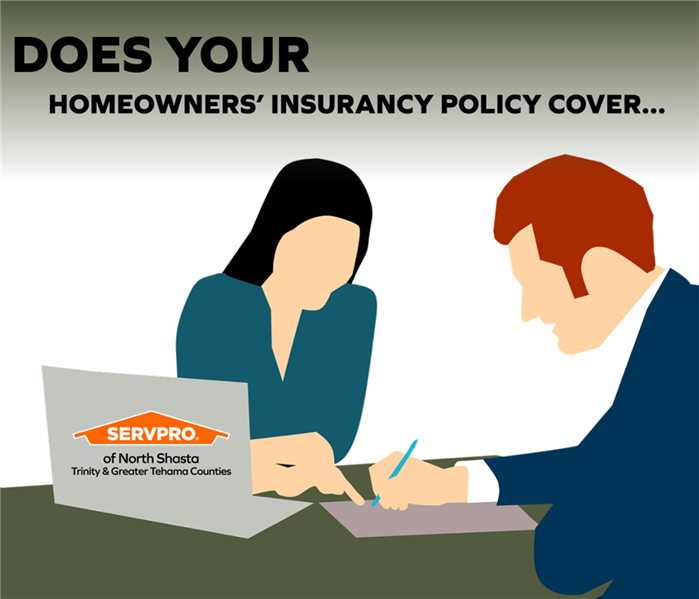 Redding Homeowner checking into their Homeowners' Insurance Policy to make sure it covers STORM DAMAGE FLOODING.
There is a wise quote once said by a bear who loved to eat honey. "When life gives you a rainy day, play in the puddles." - Pooh Bear
Rainy days in Redding, California, are more common in the fall and winter months, making now the perfect time to check your homeowners' insurance policy. Because although jumping in the puddles can be filled with laughter and magic, persistent rain can cause extraordinary damage to your home and potentially could lead to flooding.
Most homeowners' insurance policies don't cover flooding by storm damage or excessive rain. With flooding being the most common and most expensive natural disaster in the United States, having a separate policy for flooding can keep money in your pocket and give you peace of mind. Depending on where you live, the average annual cost for a flood insurance policy can be around $600-$1,000 per year. With inflation costs rising and the threat of a recession, most people are looking for every way to save money. Researching weather patterns, flood risks, the age of the home, quality of the roof, and speaking to your local homeowner's insurance agent, can help assess if flood insurance is right for you and your family.
According to Bob Vila, the national average for water damage restoration repairs costs homeowners around $3,291. We can firmly say no one wants to spend that amount of money on an unplanned crisis, which should play a part in your decision for purchasing flood insurance.
If an unplanned crisis does arise and you experience flooding in your home, call SERVPRO of North Shasta, Trinity, and Greater Tehama Counties. Our staff can help walk you through contacting your insurance company and knowing what steps to take to minimize the damage in and to your home.
Water Damage can be the root of mold issues and the rotting of cabinets, floorboards, and walls. There are some things you shouldn't DIY, and handling a flood in your home is one of them.
SERVPRO of North Shasta's technicians are trained and certified in water damage restoration and are available to start the process of drying out your home 24 hours a day. With the backing of SERVPRO's national network, we use the latest and most advanced technology along with access to 90+ products made in-house that provide the best solution for the job.

If recent storm damage has caused flooding or water to seep into your home, give us a call today! 530-222-0200