OVER 50% OF ALL REDDING CALIFORNIA COMMERCIAL STRUCTURES ARE THREATENED BY NATURAL DISASTERS.
8/5/2022 (Permalink)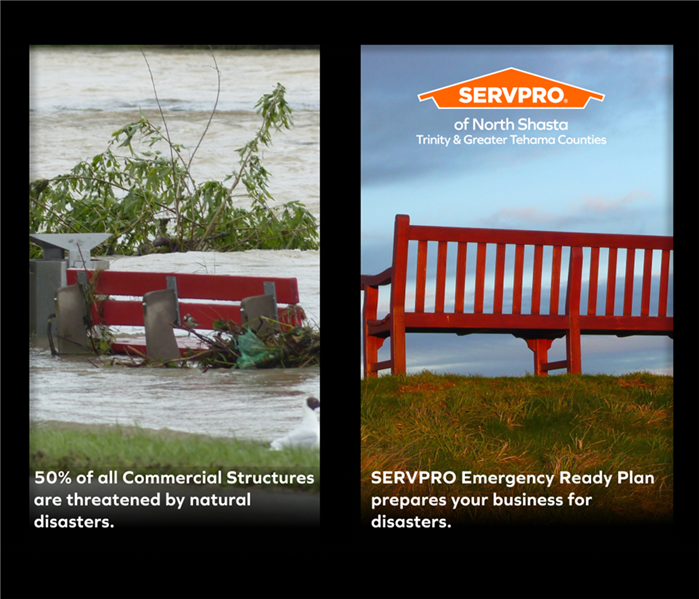 This shows the difference of being prepared and not prepared by signing up for SERVPRO Emergency Ready plan for business.
A study by the American Geophysical Union shows that over half of all U.S. Structures are now threatened by Natural Disasters. This was not always the case, with land development changes being the main culprit, making owning commercial property a higher risk than in previous years. Most structures are in what they call "natural hot spots." Places where wildfires, tornadoes, floods, and hurricanes are more likely. So what can you do to prepare your building in the event of a natural disaster loss?
The SERVPRO Emergency Ready Plan prepares your business for the least amount of interruption by giving yourself and your company a plan for any natural disaster.
How does it work and benefit you?
No Cost Assessment of your Facility.
Our team is ready to assess your facility to create a profile document that will contain information needed in the event of an emergency such as a natural disaster. Just a few minutes could help save you time and money.
Immediate Plan Following a Disaster
Your customized emergency-ready plan will consist of a guide to get you back into your building and help minimize your downtime for your business. This might include identifying a line of command and who's authorized to confirm the start of work. Don't lose time and money by not knowing what immediate action steps to take in the event of an emergency.
In the event of a flood, do you know where the water shut-off valve is, how to
shut off the electricity in each room, and what are your main priority areas? SERVPRO Emergency Ready Plan for your building and property will answer all these questions, preparing you for any natural disaster.
One of the most stressful parts of the process is dealing with your insurance company and understanding what is covered and what isn't. The paperwork alone can be confusing and time-consuming if you have never navigated the waters of a natural disaster claim. When you choose SERVPRO of North Shasta, Trinity, and Greater Tehama Counties, we help tame the waters and help you through the process. Remember, we are the leading experts in mitigation and restoration and are ready to help 24/7.
Ready to set up your plan and take a huge step forward in preparing yourself for what could be devastating to your property? Click on this link and start the process now.
Your business is your livelihood. It's your employee's livelihood. Because we are a part of your local community, we want to see our community succeed. We know this area and what natural disasters you will face with almost 30 years of being your neighbor. We are here to help your prepare for the worst, but hope for the best.

CALL US TODAY! 530-222-0200