Advice from the Experts on Water Damage in Redding, California.
7/27/2022 (Permalink)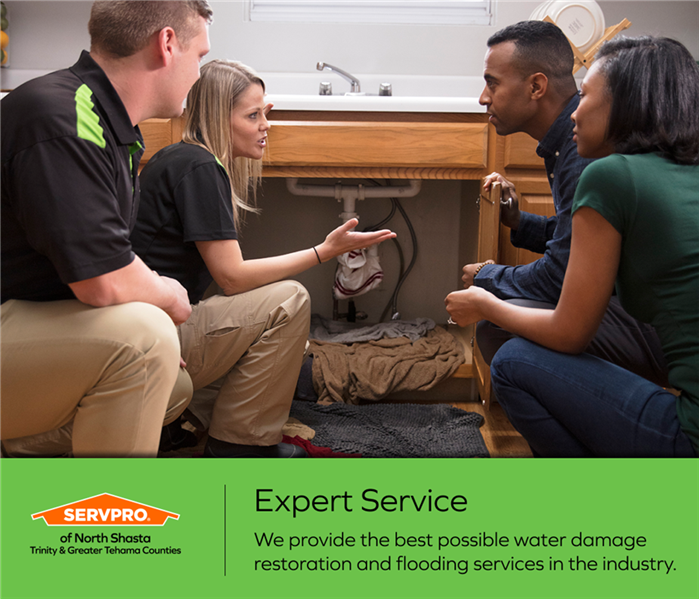 SERVPRO of North Shasta's technicians explaining to customers the process of water damage restoration in Redding, California.
Water is a powerful energy source. Hydropower or Hydro energy provides clean energy to cities and towns all over the world. According to USGS Hydropower, represents about 17% of total electricity production. Making water the most important and widely-used renewable source of energy.
However, water is also incredibly dangerous! Heavy rains, leaky pipes, severe storms, and broken appliances could be hazardous to your home or office. SERVPRO of North Shasta, Trinity, and Greater Tehama Counties has over 26 years of experience with water damage, and you wouldn't believe all of the issues we have seen. So here are 3 tips from our expert technicians to keep your family, yourself, and your home or workplace safe.
After you turn off the water, remember to shut off the power. Whether it's a faulty appliance, heavy rainfall that floods your basement, or a leaky pipe that sends water all over your computer cords, quickly find the circuit breaker, turn off the electricity, and unplug the device. This will help keep you safe when you start the water drying process.
When we start to see water flood our home, the first instinct is to clean and dry the water immediately. But did you know that there are several different types of water and levels when it comes to water damage? The IICRC (Institute of Inspection Cleaning and Restoration Certification) is a great source for helping you identify what kind of water and water damage you may have.
Category 1: Clean Water

Example: Rainwater, faucets, drinking fountain, etc.
Experts say to be careful when identifying water as a level 1 and to assess the cleanliness of the floor. If animal feces or urine is present on the floor, this can quickly upgrade the category to level 2.
Category 2: Gray Water

Example: Dishwasher, Toilet, Washer Machine, Etc.
Gray water is slightly contaminated and needs a disinfectant to be applied to affected surfaces. Be careful when cleaning grey water to avoid any kind of infection or illness.
Category 3: Black Water

Example: Toilet overflow with feces or urine, sewer backup, flood waters from rivers or streams, etc.
Highly contaminated, black water can require immediate removal of building materials such as drywall, cabinets, flooring, etc. If you suspect you have black water damage call in the water damage experts, SERVPRO of North Shasta, Trinity, & Greater Tehama Counties. Our technicians are certified and trained, to remove, clean, and restore your home back to a safe place.
Once you have turned off the electricity and water start removing any objects that aren't permanent. Example: Rugs, furniture, curtains, toys, dog beds, etc.
If some of your furniture is too heavy to move try placing foil or plastic under the legs to help keep the water from soaking into the material.

If you have a water damage emergency, SERVPRO of North Shasta, Trinity & Greater Tehama Counties is standing by 24/7 to provide expert service. We provide the best possible water damage restoration and flooding services in the industry. Water Damage doesn't have to be scary when you know who to call! 530-222-0200