Don't take our word for it.
10/22/2021 (Permalink)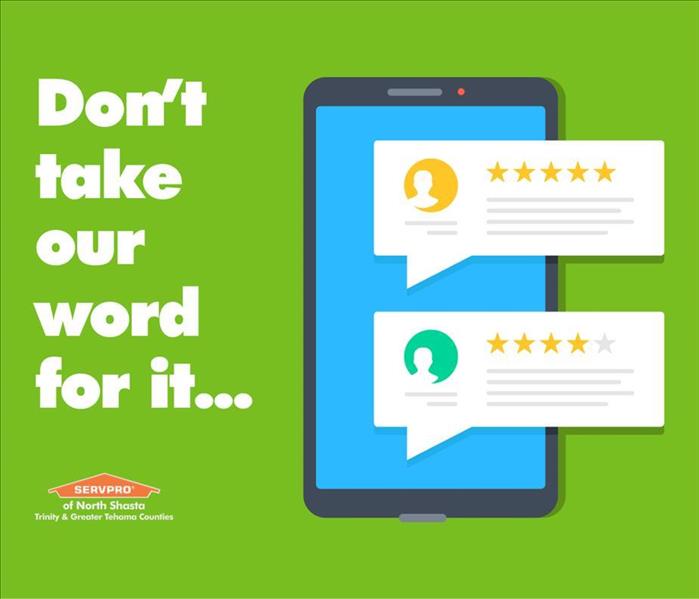 If you need restoration work on your home or business, don't hesitate, contact us today! 530-222-0200
Over the last couple of years, we have looked at our process and the way people experience our company, and have begun creating ideas around fulfilling the needs of the people we have the opportunity to serve. Of course, we are not perfect, but the vast majority of the experiences people have had with us have reflected those efforts. It is by design that we approach every interaction with empathy and professionalism, but don't take our word for it, here are some comments from recent customers of ours.
Kind and thoughtful during a challenging time.
Great service
Our experience was amazing! Very hard-working people and very kind and thoughtful. I want to thank Marty, Amanda, Dylan, Rodney, Lucas, Austin, and Jamie for all your hard work! My mom and I are so grateful for having such a great crew at a bad time.
Empathy and professionalism at every step.
Our SERVPRO team was absolutely amazing! From our first call to our last service visit the staff was always polite, efficient and professional.They worked around a challenging situation with ease and kindness. They kept us updated at all stages of the process. Could not have asked for a better group to work with. Thank you to Amanda, Hanna, Eric, Tony, Laura, Janeen, Sarah and Robin!!


Treating your property as if it were our own.
We were very satisfied with all the SERVPRO employees that came to our house and helped to remedy a water leak from our refrigerator water line. Everyone that served us was polite, took care with our belongings, had a great attitude and always asked how we wanted things done. Tony and Eric were especially helpful today bringing things back into our house from the storage pod. We would highly recommend this business.



Although the experiences expressed here are common we never take them for granted. We have worked very hard to create an atmosphere within our company that attracts the kind of technicians and office staff that truly care for people. From our owners to our office staff and technicians, we are very proud of the people we work with. It is an honor to serve the people we come in contact with every day!
If you need restoration work on your home or business, don't hesitate, contact us today!