PGE Shut off - What to do - Redding Restoration Company
10/30/2019 (Permalink)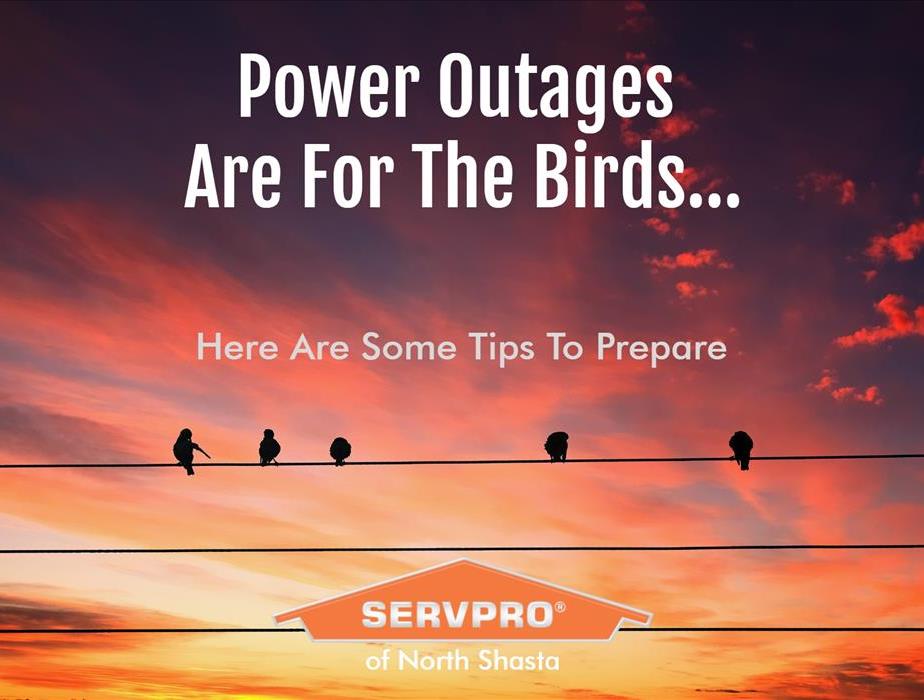 If you have experienced fire damage caused by fallen power lines or any other disaster, contact us today. 530-222-0200
Many of the residents have had their power turned off in Shasta, Tehama, and Glenn counties. This is an unpredictable power shutoff mandate; PG&E is shutting power off to keep the communities safe from large weather events that may cause fires like the one in Paradise. At the beginning of October, the vice president of PG&E gave an estimate of updating over 7,000 miles of power lines that may take 10-14 years in high fire risk areas. He also claims that it can take up to 8 years to improve vegetation management on 25,000 miles of power lines in high-risk areas.
With this PGE Shut off, we need to be prepared for no energy for many days.
SERVPRO® of North Shasta, Trinity & Greater Tehama Counties wants to help you when your power is out. Here are some steps to help you prepare.
Make sure you have at least 7 days of food and water for everyone in your home.
Find alternate plans for medical devices.
Have a good supply of fresh batteries.
Have plenty of flashlights ready.
Make sure you have plenty of fuel for your vehicles and or generators. Chances are if you don't have power your local gas station might not be open.
ALWAYS keep generators outside and away from windows.
Keep the fridge door closed as much as you can, this will keep the cool air in the fridge. Use thermometers in your freezers and refrigerators to make sure you are well under 40 degrees. You might have to get ice or dry ice to keep your food from spoiling. If the temperature goes over 40 degrees for 2 hours or more the food has spoiled.
Power outages can impact our communities and our local economy. These outages can disrupt your water supply as many of our locals depend on wells and your pumps can't operate without electricity. Your transportation methods may also become interrupted, as gas stations may not even be open for business and if they are, they may be overloaded with customers or even run out of gas and fuel. Communication systems can go down during an outage, which can leave residents in the dark when it comes to the latest information in safety status. Please take the time to prepare for yourself and families, this will help you considerably in the years to come.
For more helpful tips, check out our Tips-On-The-Go episodes on our Youtube Channel.
Also keep up to date with your local restoration professionals SERPVRO® of North Shasta, Trinity & Greater Tehama Counties 24/7-365