SERVPRO Cleanup for Commercial and Business Property Damage in Shasta County, California
4/11/2019 (Permalink)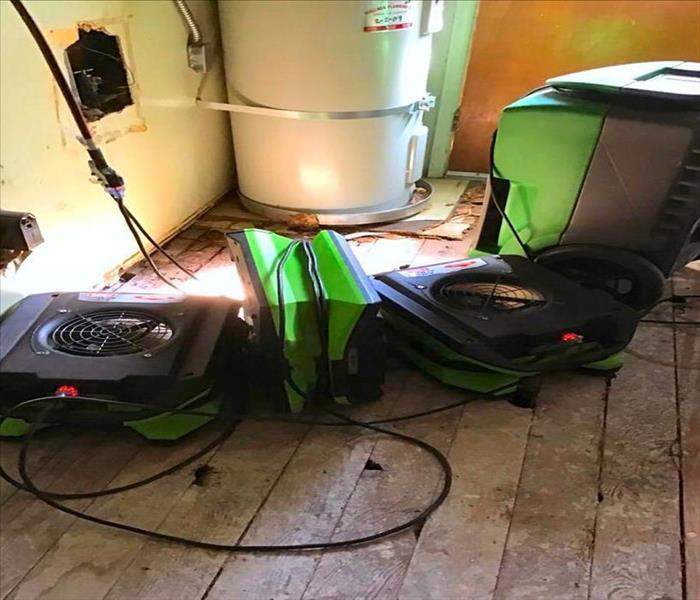 SERVPRO @ 530-222-0200 in Shasta County and Redding, California for Home and Business Property Fire, Water & Mold Cleanup
... is a locally owned and operated area small business franchise we are not only well connected with local residents and business owners, we specialize in commercial large-loss projects and are able to seamlessly scale and call into action within a-moments-notice a massive array of personnel, vehicles, equipment and resources to meet the fire, water, storm, mold or flood damage cleanup and restoration needs of any commercial, business, manufacturing or industrial structure such as: warehouses, churches, hotels, retail stores, military bases, libraries, government facilities, manufacturing plants, hospitals, clinics, convention centers, apartment complexes, theatres, restaurants, distribution centers, schools / universities, office spaces, airports, and sports complexes.
Business Interruption, Project Management and Insurance
SERVPRO knows that commercial restoration typically requires more layers of planning than typical home property damage restoration projects. Providing a complete scope-of-work, project planning, and time plus materials estimate for known and unknown costs may include additional management, labor, and equipment.
Property owners and managers, tenants, and of course the insurance company are all key players. Many have "business continuation" or "business interruption insurance" and the insurance carrier, of course, is motivated to get the job done quickly to keep the payout of business insurance coverage as low as possible.
Water, flood and fire damage hurt business assets like inventory inside the commercial space. Recent heavy rains and snow fallen trees knocked out power. Heavy snow accumulation broke through the roof of a large commercial building recently here in Redding. Safety, perhaps more so in this circumstance, became paramount because of the nature of the facility – a grocery store. Unlike an office building where damage and water pour onto computers, documents and business equipment. As we all know a grocery store contains all of that plus much more. Chemicals like shampoo, kitchen and bathroom cleaners, laundry detergent and soap along with frozen and refrigerated food like poultry, dairy, lunch meat, frozen bags of vegetables and processed ready to cook food all break open and quite possibly mix while reaching room temperature, thawing out and creating a toxic and biohazard slurry.
When something as intense as an entire roof collapses upon these aforementioned items plus pet food, paper towels and toilet paper; loads of rainwater and heavy snow fill the inside retail space making everything wet – soaked with moisture two things happen.
Mold begins to grow.
Previously frozen items begin to thaw creating additional risk because, for example, chicken and poultry left at room temperature produce dangerous salmonella bacteria.
The point is that not only is the business property structurally damaged and not only are contents wet but broken, opened and thawed inventory items create additional complications. Plus, commercial buildings are outfitted with industrial heating and air conditioning units (HVAC), network cabling, high voltage electrical components for computer networks, POS register systems and high-capacity commercial refrigeration and freezer units. Commercial restoration work, many times, requires forklifts, scaffolding, heavy-lift machinery all of which require trained crews and experienced project managers to orchestrate a smooth and quick recovery.
We are available at any hour of the day or night every day of the year. 24/7 – 365 Call Now! (530) 222-0200
Fortunately, we here at SERVPRO of North Shasta, Trinity & Greater Tehama Counties have the trained professionals and state-of-the-art industrial water extraction, drying and hazardous material removal equipment to get a commercial facility back to "open for business" safe condition. As a city of Redding and Shasta County business owner and commercial point-of-contact, keep SERVPRO front of mind for the unexpected disaster.
Visit us on our @SERVPRONorthShastaTrinityGreaterTehamaCounties Facebook Page for news and timely updates.
** Also check out our 5 Star Reviews from satisfied customers on Google and Yelp!