Winter Home Fire Safety – SERVPRO Professional Advice
3/13/2019 (Permalink)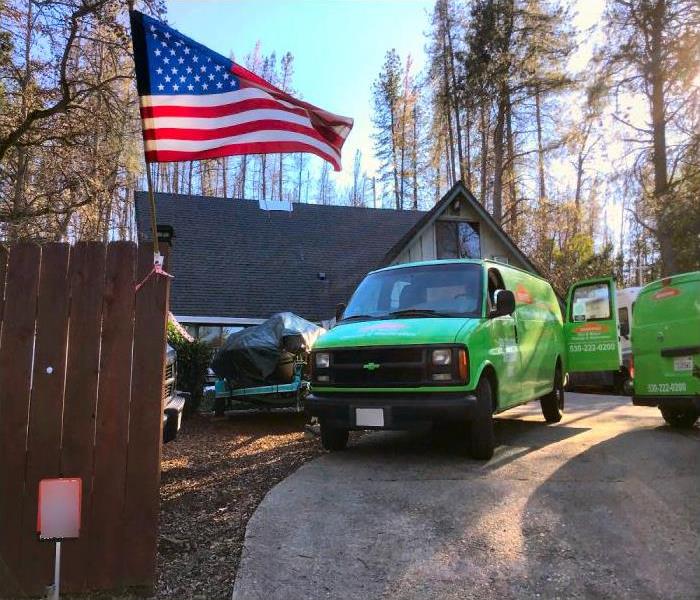 SERVPRO Takes Your Redding Home Fire Safety Seriously! We can help you 24/7 - 365. Call Now! 530-222-0200
Trying to stay warm in your home during these Winter months here in Redding?
Especially with the recent massive snow storm, fallen trees and Shasta County wide power outages homeowners are forced to take uncommon drastic measures to provide heat such as using inside propane burners, candles, wood stoves and open flames. Even when the power is on traditional space heaters and electric blankets deserve the same precautions – clearing away low hanging sheets, towels and checking extension cords for bad plugs and frayed insulation.
Our SERVPRO office here in Redding, California receives ongoing phone calls from residents who have experienced Winter related fires in kitchens and living areas - all in an attempt to keep warm. Our highly trained SERVPRO of North Shasta, Trinity & Greater Tehama Counties technicians understand that accidents happen.
When the power is out, it is usually a bad choice to use propane heating units inside living areas simply because of the immense danger of carbon monoxide build up. CO2 is highly lethal in strong concentrations. Without odor or smell the gas from internal space heaters can produce loss of consciousness for occupants.
When the power is out a home is generally dark. Extra caution is advised with an open heating flame being too close to unseen combustible material such as paper, bed sheets and fabric towels.
When the power is on be on the lookout for damaged electric wall sockets and exposed wiring in extension cords. Also keep in mind that home electrical wiring and the circuit breaker can only take so much wattage on a particular circuit. Always use common sense and follow the voltage limits and manufacturer directions on the device.
A) Space heaters require a clear, flat surface for safety and to remain stable while in operation.
B) Don't put space heaters on carpets or rugs.
C) Newer model heaters are installed with a floor shut off device that if the unit is leaning or falls shut off occurs. Check your heater to make sure it has that device.
D) The key safety point for propane heaters is to have adequate ventilation to outside air. Also battery powered combination smoke and carbon monoxide detectors installed around heating areas can be potential life savers – especially at night when temperatures drop, heaters are left on and occupants are asleep.
E) Finally, children, pets and the elderly or those persons with compromised immune systems can be especially susceptible to the inhalation of invisible heater off-gassing, fumes and CO2.
Your friends here at SERVPRO of North Shasta, Trinity & Greater Tehama Counties hope that by implementing the above guidelines you never have to experience the impact of fire damage resulting from unsafe space heaters, propane heating units, and electrical device malfunctions.
This winter season if you do experience any fire damage events in your home call us immediately for a fast day or night response from our trained and qualified Redding and Shasta County SERVPRO technicians.
Call SERVPRO of North Shasta, Trinity & Greater Tehama Counties Today!
** Stay up to date on more timely news and safety tips by Liking and Following us on Facebook at: