Wildfire Risk for Redding Homes and Neighborhoods
2/28/2019 (Permalink)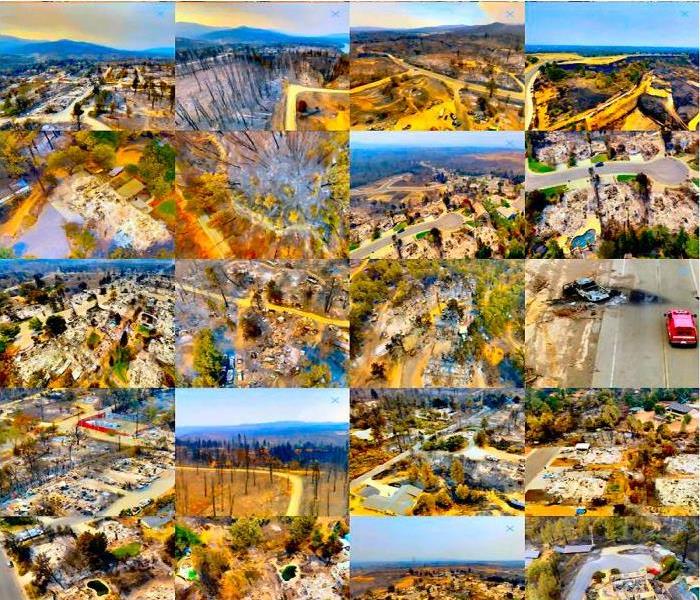 Get ready now for Wild Fire Season fast approaching! SERVPRO in Redding, California can help! Call Today! 530-222-0200
530-222-0200
The City of Redding, California in July of 2018 suffered one of the most destructive wildfires in California history. Burning nearly half a million acres the Carr Fire devastated in excess of 2,000 structures and burned over 270 homes. Just when Northern California communities and residents thought there was some relief wildfire again reared its ugly head. The Camp Fire, occurring in early November, raged with such speed and intensity fueled by decades of overgrown brush and high winds quickly burning through the Butte County mountain town of Paradise and covering the neighboring towns of Chico, Orland and surrounding areas with blankets of ash and soot.
** SEE: Community Planning Assistance for Wildfire Project – Redding, California
New construction will be held to higher standards of code requiring:
Defensible space requirements surrounding structures
Using ignition-resistant construction materials
Clearing brush, safer forestry management and implementing wildland vegetation strategies.
Living among neighbors when it comes to wildfires is a team effort. A single home fortified by fire resistant building materials and defensible cleared space will still burn if surrounding homes ignite. The goal is to reduce the effect of fast-moving wind-blown embers lighting on fire flammable roofing materials and being sucked into attic vents. There are three hazardous fire zones around a home.
** SEE: Wildfire Conflagration Continues Report
The closest defensible space to maintain is an immediate 5-ft non-combustible area around the house. To use a real-life example SERVPRO was called to an area in the hilly terrain of West Redding. When our team of fire and water damage restoration professionals arrived, they discovered that the home was saved from surrounding Carr Fire destruction because the homeowners had created a stone and rock landscaped perimeter completely around the house. The fire burned right up the edge and stopped a few feet away from the structure and thus saved the home.
The second zone extends 30-feet out. This area creates open space with extensive brush and branch removal.
The third zone is meant to resist the speed of wildfire growth through additional brush reduction.
Be sure and take a look at our popular article: California's Wildfires: The Perfect Shasta County Fire Conditions
SERVPRO of North Shasta, Trinity & Greater Tehama Counties provides fast on-site fire damage inspections for residual soot, ash and charred structure odor and cleanup.
530-222-0200
Homeowners, neighborhoods and local Redding area communities like Anderson, Red Bluff, Corning, Orland, Mt. Shasta, Yreka, Dunsmuir, Weed and extending out to Weaverville, Shingletown and Bella Vista, rely upon the knowledge, fire risk mitigation expertise and fast smoke damage response SERVPRO brings to our North State area.