Redding Home Water Damage
2/6/2019 (Permalink)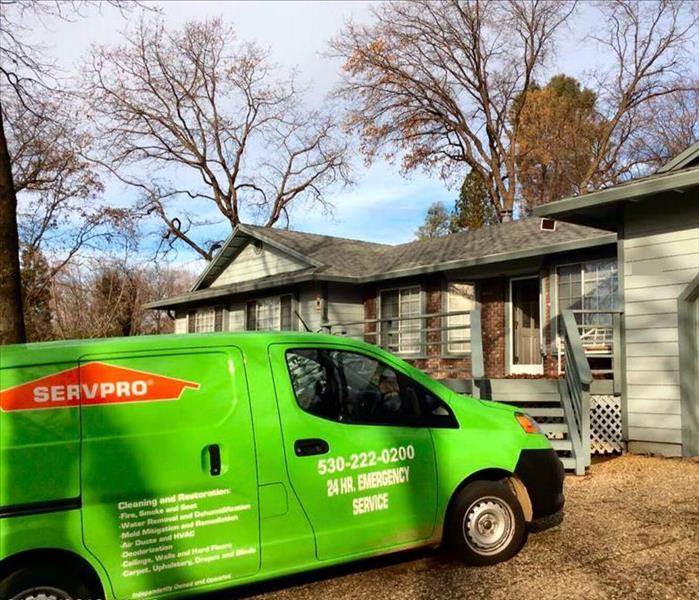 Water Leaking in Your House? Call Us Immediately at 530-222-0200. Serving Redding, Red Bluff, Mt. Shasta, Yreka, Weed and surrounding areas.
Residential fire, water, mold and storm, rain and flood emergency repair and clean up restoration services provided by Redding California SERVPRO of North Shasta, Trinity & Greater Tehama Counties trained professionals is a testament to the fact that most property owners discover water problems too late. Much could have been prevented.
** GOOD NEWS - We are here at 530-222-0200 all the time day or night to respond quickly!
Water pipes and faucet fixtures under kitchen and bathroom cabinetry, behind showers, sheet rock and along internal wall spaces leak, freeze, drip, burst and allow moisture to secretly build up in as-yet-undiscovered spots only to awaken a property owner when the signs appear – mold, paint bubbles, sagging wet walls, dank musty mildew odor and, of course, visible layers of water gravitating to a home's lowest point. Carpeting, toilet fixtures, vinyl and hardwood floors retain moisture in the climate-controlled ecosystem of modern home HVAC systems providing a perfect breeding ground for greater toxic problems like mold spores on clothes.
Water flooding can occur from old and under-maintained dishwashers, water heaters, swamp coolers and toilets. Plumbing pipes running through the second story wall and floor space create greater problems, often, destroying lower story ceilings and floors producing discoloration and soaking into carpeting and home furnishings in bedrooms. Different colors appear, perhaps yellowish or brown along with water bubbles in peeling and cracking paint and wallpaper stains.
Water Repair People
SERVPRO of North Shasta, Trinity & Greater Tehama Counties
Kitchen and bathroom floors, whether vinyl or hardwood, even in the best of conditions are usually high-traffic spill areas inviting puddle accumulation. When a pipe ruptures sections already weakened by ongoing foot-traffic exhibit changes in texture such as warping, buckling, curling and in worst-case scenarios the above-foundation floor begins to sink from wet floor joists and structural supports. Hardwood floors besides changing shape also suck up water into the wood pores to swell and expand.
For more information please take a look at our post: Flood Water Damage Insurance Regulations for Commercial and Residential Property Owners
Keep in mind as well that when you think of water related damage issues you typically don't think of fire. Soot and ash certainly, however, a great deal of residential moisture damage insurance claims are the result of firefighting efforts; high pressure water and chemical foam used to extinguish the flames.
Our professional and trained technicians rush drying equipment and odor neutralizers to your home or apartment to prevent further water damage and begin cleaning all types of moisture and plumbing disasters in your home. We also clean up mold. Fast air drying and circulation is critical to stopping further damage.
Your possessions and contents are treasured items. We have a page that describes SERVPRO's detailed water damage restoration process called "Caring For Your Belongings". Also, our ongoing Blog page, among Redding, Shasta County and Northern California home owners is a popular destination for water damage information related to fire, mold, and storm damage. Many area residents in recent days who visit our site have enjoyed our article entitled Apartments in Redding, California and Winter Water Damage. Especially during our current stormy weather we are taking calls for water leaks and indoor flooding.
We are here for you with fast professional 24 / 7 – 365 response and trained, qualified and professional people who have your best interests in mind.
530-222-0200
Like and Follow us on Facebook at @SERVPRONorthShastaTrinityGreaterTehamaCounties