How SERVPRO Can Benefit Your Redding, California Commercial Business
1/23/2019 (Permalink)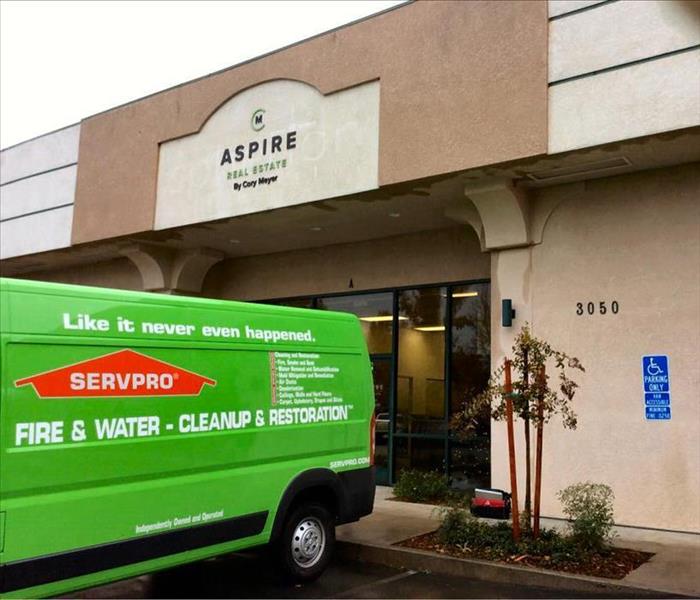 Redding Retail and Commercial Businesses Depend on SERVPRO for Fire, Water and Mold Damage Clean Up. Fast Service. Call Now! 530-222-0200
The Carr Fire in Redding's Shasta County and the Camp Fire in Butte County, Chico and Paradise produced massive devastation throughout local residential neighborhoods and homes. Businesses and commercial facilities through our Shasta, Butte and Tehama Counties region, those still standing, require cleaning of soot, ash and odor decontamination and sanitization. Businesses in many ways produce the life blood of economic vitality for local populations and communities.
Call SERVPRO Immediately! 530-222-0200
We help Northern California businesses get back in business – fast. Lost time is lost money. Whether it is disaster and mold remediation or something even worse like an active shooter event; these unexpected tragedies require a preexisting arrangement with a trusted restoration company like SERVPRO to provide the level of compassion along with urgent response, people and resources to handle any scenario.
Our extensive commercial resources include:
Time is of the essence. The longer water floods your business premises damaging documents, inventory, floors, carpet and destroying sheetrock and bathroom fixtures the longer your commercial facility will be closed to your customers. Our trained SERVPRO professionals arrive on site to immediately stop the water at the source-of-loss point. Our experience and state-of-the-art SERVPRO technology assigns water extraction and drying equipment to key zones. No matter the size of the commercial property for your business our SERVPRO technicians have the training and certifications needed to handle any type of water, fire, storm or mold damage loss.
Industrial, Commercial, and Manufacturing Facilities - Fire Damage Restoration
Regardless of whether the fire is inside the building or at a distance, smoke, ash and soot travel through HVAC systems and coat the surface of machinery, control surfaces, business inventory, electronic components and create havoc for the employees breathing in what is thought to be clean filtered air. Odors remain. Water from firefighting efforts mixed with the smoke and burned industrial synthetic chemicals and plastic produces an even worse state of acidic toxic liquid creating pits in metal fixtures and sensitive electronic components. SERVPRO of North Shasta, Trinity & Greater Tehama Counties knows the intricacies of handling these fire disasters along with the collateral damage produced by the very methods used to extinguish the flames. Odor control and sanitization along with an ionizing thermo fogging technology that skips masking the odor and changes the atomic structure of the smoke particles to an odor neutral state.
Odor Control of Smoke is just one of the amazing services SERVPRO provides to Redding Hotels, Restaurants, Schools, Government, Churches and Retail properties.
Call Us Now! 530-222-0200
Mold spores float through the air everywhere. It's not an "if mold will strike" question it is a "when mold growth happens" at your place of business, in front of customers, will you call SERVPRO of North Shasta, Trinity & Greater Tehama Counties?
Visit our website to stay informed with our blog posts. Follow us on Facebook to say up to date on how SERVPRO can help your commercial business.