Apartments in Redding, California and Winter Water Damage
1/16/2019 (Permalink)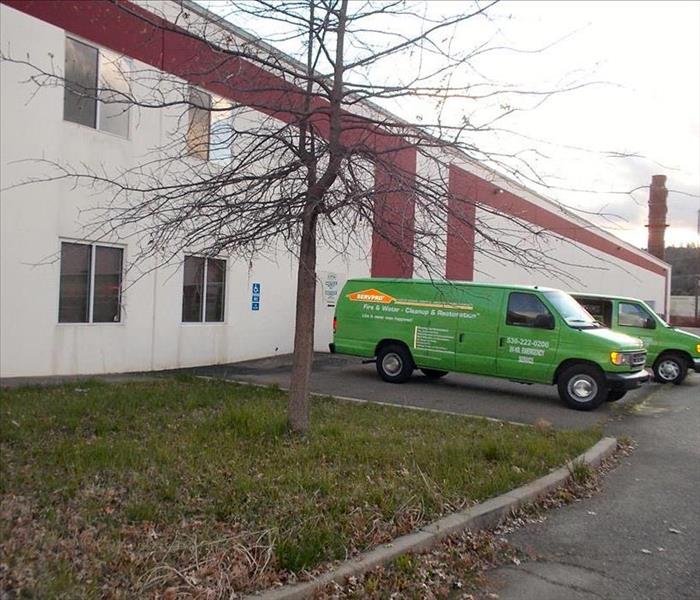 Apartment Water Damage from Winter Rain and Storms? Call SERVPRO Now! 530-222-0200 Redding, California
Shasta County Commercial Property, Multi-Unit Housing and SERVPRO Water Damage Emergency Cleanup
Landlords and property managers are frontline providers of housing to our local communities. The residential properties they own and manage are, of necessity, expected to be maintained at an acceptable level of health and safety. Many times, we here at SERVPRO of North Shasta, Trinity & Greater Tehama Counties are called out to provide fast water extraction drying to a premise's floors, walls and ceiling because of an unexpected sudden rain water leak or broken shower pipe flood pouring into the sheetrock and insulation of a tenant's apartment or condominium.
Winter snow, ice and wet freezing rain can hit hard during these extreme weather seasons. Windows and doors require proper weather stripping to prevent water leaks and seepage. But that is only the first step of protection from outside moisture. Examine the tightness of your exterior doors. Check the fidelity and structural soundness of rain gutters and your apartment complex roofs to ensure tenant water damage property protection.
Outside areas also include the necessity for properly sloped landscape and parking lot water drainage intakes cleared of seasonal debris accumulation. Slip-and-fall safety and prevention is the key because proper signage, effective water runoff, slip resistant walkway matting all reduces liability insurance claims because tenants have a safe pathway to vehicles, common areas, event rooms, laundry and workout areas.
Rain gutters and drain spouts, often, quite high on the edge of multi-story, multi-unit commercial housing complexes are easy to miss during seasonal maintenance checkups. Water back up and leaking through cracks into the walls and hidden areas of adjoining units creates hidden damage to multiple adjoining apartment units. That is when the problems really begin because not only is there water damage, but the wet and untreated surfaces allow preexisting mold spores to thrive and grow.
Everyone likes shade, especially during the scorching heat of Redding summer days. Large trees with bushy overhanging branches look great in the hot afternoon. However, when winter storms strike those same trees with their aging untrimmed and brittle branches are waiting to fall upon roofs, gutters, eves, carports and possibly a tenant. Also, utility power lines and telephone poles, by themselves are dangerous enough during strong winter wind and rain storms. When those same lines, over time, become embedded in the branches of uncleared brush and tree limbs the situation becomes exponentially more dangerous for resident safety and opens the door to extensive property and structural damage.
Because SERVPRO of North Shasta, Trinity & Greater Tehama Counties has over two decades of water, mold and fire damage clean up and restoration to just about every apartment complex from Weed, Yreka, Mt. Shasta and Red Bluff we are intimately familiar with how to quickly scale our experts and resources for any type of inside or outside property damage. We have also had the opportunity to develop close working relationships with many well-known local insurance agents and adjusters
An extraordinary benefit of having SERVPRO on your side is that we provide a **FREE onsite disaster preparedness assessment aptly named the Emergency Ready Profile. The ERP is a preexisting report (available on Apple or Android mobile devices) specifically outlining the phone numbers of first responders, property managers, photos and location information of key gas, electric and water shut off locations on your property. In a nutshell, the ERP provides peace of mind that SERVPRO of North Shasta, Trinity & Greater Tehama Counties has your back – day and night.
Call Now! 530-222-0200