Your Redding Storage Unit and Toxic Mold
1/16/2019 (Permalink)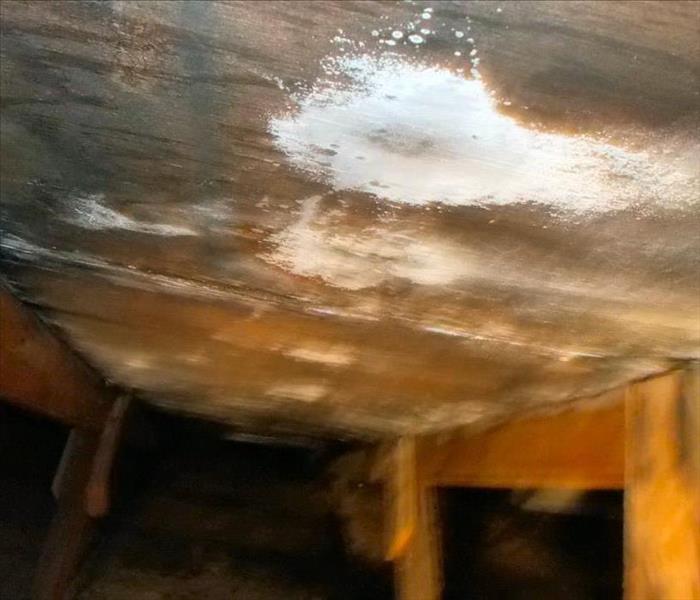 Mold Growing In Your Storage Unit? Call SERVPRO immediately for fast Mold Removal and Deodorization! Redding, California - 530-222-0200
Is mold growing in your storage unit?
We all like to have the peace and security of storing our extra household items and important business documents in a storage unit. Mold growth, believe it or not, is still quite common. Perhaps, more so, because storage units are frequently closed, dark environments holding unmoved and uncleaned paperwork, artwork, business equipment, sentimental family heirlooms and especially mold spore containing objects like clothing, curtains and fabric covered furniture.
SERVPRO of North Shasta, Trinity & Greater Tehama Counties is a Redding, California Mold Removal and Clean Up Hero.
Storage units could be described as non-living environments. In other words, the frequency of human presence to quickly see a mold spot growing and take preventative measures for sanitization is low. Most storage units are left unattended for months and even years at a time. We don't really know what is occurring. Certainly, with outside units, we are left at the mercy of storage facility property owners and managers to maintain enough dry air and rain water leak-proof roofing to ensure toxic mold protection from moisture build up and retention. Once again, because these units never see the light of day for long periods of time a rich and fertile, humid and dark habitat exists within which mold spores grow, multiply and thrive.
Climate controlled units help with lowering humidity levels. What happens is that even in the best of circumstances a once clean unit becomes the epicenter of a mold outbreak because of unclean items transported in from your home or business at the outset. Quite often mold prevention begins at home.
Mold Awareness and Prevention is the Key to Keeping a Moldy Storage situation from getting worse.
Before you store, check the ceilings, walls and floor of you unit for any musty odor or obvious signs of mold.
Be aware that roof leaks may not be immediately visible. Especially here in the North State and Shasta County we experience long periods of harsh summer heat. Left unchecked, winter storms bring high levels of rainfall to an isolated and frequently unvisited home or business storage area.
Be aware of any standing water around the storage facility and ask your storage provider about on-site unit checks.
Proper ventilation is very important to maintain a standard level of dryness. Especially after an extreme wet weather event
When bringing any items to the unit, or removing them, check the floors, ceilings and walls for any signs of mold. That musty smell we are all familiar with will help you here.
Here at SERVPRO of North Shasta, Trinity & Greater Tehama Counties we provide a full stack of mold removal and cleaning services because where there is water there is mold. We provide as necessary full onsite mold assessment, water drying extraction, HEPA and ODOR air scrubber filtration and sanitization, content cleaning.
If you open the door of your storage unit and see the reality of mold you had long suspected was there lurking in the darkness; that bad mildew smell and the green, black and orange spots of a mold colony eating away at your precious assets then call us immediately here at our Redding, California office.
SERVPRO – 530-222-0200.
Like it never even happened. ®