Roof Snow, Ice, Frozen Pipe Damage from Winter Rain and Extreme Weather Storms
1/9/2019 (Permalink)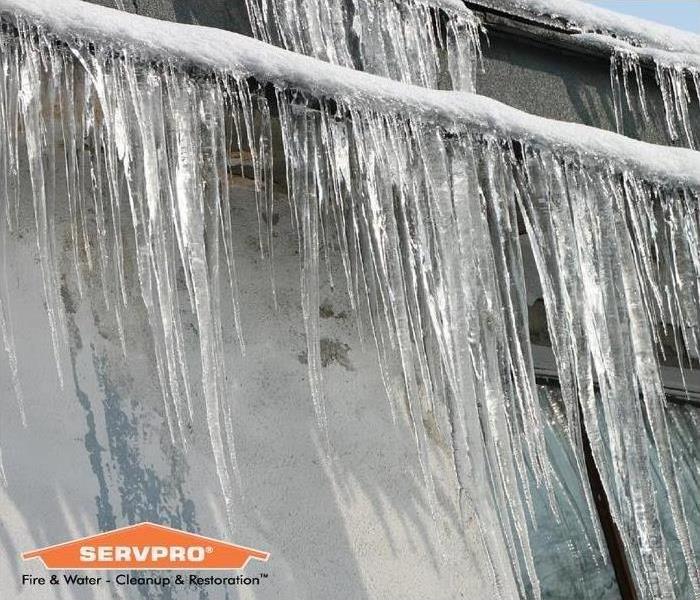 Northern California winter storms bring freezing rain, snow and ice. SERVPRO can help you with any winter home damage. Call Now! 530-222-0200
530-222-0200
Business and major home property damage can occur with very little warning from freezing rain, ice storms, snowfall accumulations and cold winter temperatures. During the Redding, California winter months the higher communities and mountain passes in Shasta and surrounding counties like Trinity and Siskiyou frequently experience longer travel delays and road closures from higher than average snow levels. Throughout these winter months Northern California is visited by dark and quickly moving low hanging storm clouds facilitating fast damaging winds and heavy mountain snow drops. Wind gusts can topple trees and rip loose shingles and siding from residential dwellings at speeds of 40 to even 50 mph.
Roofs and Ice Damming
Gutters and roofs also suffer damage from large drifts and piles of snow weighing down lose or weak beams. Especially when afternoon temperatures rise from occasional sunlight and cause snow to melt and then refreeze in cracks, under shingles and expand to the point of a possible structural collapse. This cycle of frozen water thawing and refreezing causes small cracks, most of the time hidden, to become exposed and produce unsound structural integrity this continuous cycle of thaw, freeze and expansion continues; all the while, snow continues to fall producing more stress.
Another serious result of winter snow storms is when ice buildup forms on the gutters and eves. As the surface is exposed to slightly higher temperatures melting water slides around the frozen encasement and creates an ever increasing weight of unsupported refrozen ice underneath roof supports.
The good news is that most correctly built and up-to-code roofs can support quite a bit of additional weight. Construction industry experts agree that roofs that are maintained and in sound condition can hold 20-pound snow packs per square foot. New home construction in the SERVPRO of North Shasta, Trinity & Greater Tehama Counties regions, under extreme weather conditions, are built to support much more weight. One cubic inch of water or ten to 12 inches if snow weighs in at approximately 5 lbs per square foot of roof. Thus, if your roof is not decaying from age or damage, up to 4 feet of snow is a widely accepted benchmark for determining the risk level of collapse.
Frozen Pipes
Water inside pipes becomes cold to the point of freezing. Once again, over time, the contraction and expansion of seasonal freeze and thaw patterns weakens traditional copper, galvanized, iron and especially PVC plumbing. Pipes are more likely to burst and rupture seams when they are exposed to below freezing temperatures in the 20 degree Fahrenheit range. Our experienced SERVPRO professionals can safely repair water damage resulting from frozen pipes. Winterizing plumbing fixtures exposed to outside elements, such as pipes in laundry rooms, outside access bathrooms, within garage or exterior facing wall spaces, and exposed sewer plumbing would include insulating those pipes and fittings with commercial grade foam insulation.
SERVPRO is Here For You!
Northern California Winter has arrived. We brave the elements to serve the mountain communities of Trinity, Siskiyou and Lassen Counties along with our local areas of Shasta and Tehama. Fast and effective SERVPRO of North Shasta, Trinity & Greater Tehama Counties experts have specialized training in water, fire, thunderstorm, snow, and home property damage cleanup, water extraction dryout and restoration.