Commercial Cleaning Services in Redding, California by SERVPRO
12/19/2018 (Permalink)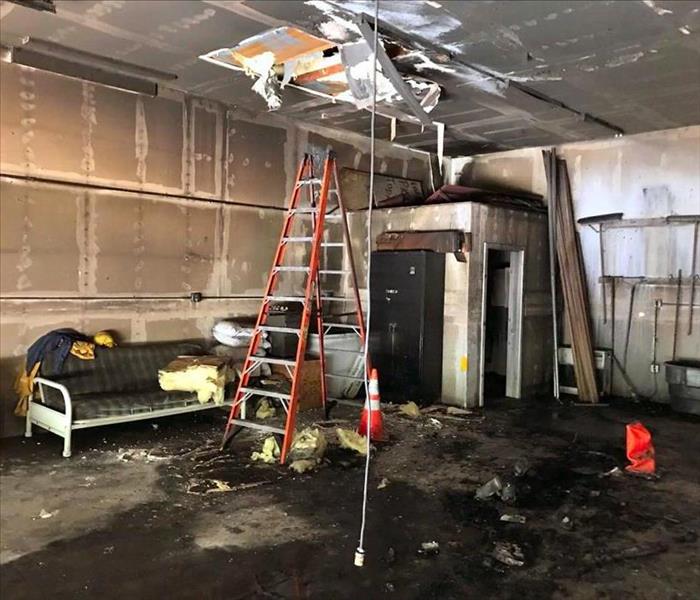 Commercial Business Fire, Smoke, Soot, Water and Mold Cleaning Services. SERVPRO - Redding, California - 530-222-0200
We are here to help restore and support our local Redding, California area communities.
Just as Shasta County area towns were seeing the results of SERVPRO of North Shasta, Trinity & Greater Tehama Counties fire and water, soot and ash, cleanup; our neighbors, quite suddenly, in Butte County experienced even greater commercial and residential large loss as the Camp Fire consumed homes and businesses throughout the entire town of Paradise and blanketed Chico, Magalia and Oroville with soot and ash debris for months to come.
** See the Article: SERVPRO Employees Lose Homes in Camp Fire, Butte County, California
We know what to do next. We are SERVPRO! Phone us at our Redding office 24/7 – 365
530-222-0200
Time is of the essence when a commercial large loss occurs. Our SERVPRO professionals, some of whom themselves have experienced residential fire loss, remain committed to our communities,
Responding quickly our SERVPRO teams will assess smoke, soot and ash residue and property damage from water to strategically place IICRC trained professionals along with SERVPRO's proprietary state-of-the-art odor removal and drying equipment. Our restoration industry leading disaster project management system puts you, the customer, at the forefront-of-care by the best on site recovery professionals in the industry.
At SERVPRO of North Shasta, Trinity & Greater Tehama Counties, business continuity from commercial loss thrives on communication and documentation with owners, project and facilities managers, insurance agents, claims adjusters, contractors and many more. We move quickly with a structural safety and building walk-through assessment. Our SERVPRO trained inspectors determine the "cause of loss". We document water damage and moisture contamination findings. Odor from smoke, soot and ash deposits is neutralized with advanced HEPA filters and thermo fogging technologies.
** Watch our Video - Biohazard ULV Fogging - Antimicrobial / Antivirus - Redding, California - SERVPRO
We remove and restore valuable and business critical document records and contents from the disaster zone for damage mitigation and drying. Our structural restoration process would also include the removal of smoke infused attic insulation and burned beams, carpet and upholstery cleaning and hard wood floor drying.
**Watch our Video - Carr Fire Smoke Odor Insulation Clean Up
We provide commercial service to Northern California facilities including Retail, Education, Property Management, Healthcare, Hotels, Motels and Restaurants including all Industrial and Manufacturing sectors, as well as Federal, State and Local Government entities.
Call Now! 530-222-0200
Follow and Like us on Facebook: https://www.facebook.com/SERVPRONorthShastaTrinityGreaterTehamaCounties/