SERVPRO Helps Redding, California residents with Winter Rain and Snow Storm Damage
12/11/2018 (Permalink)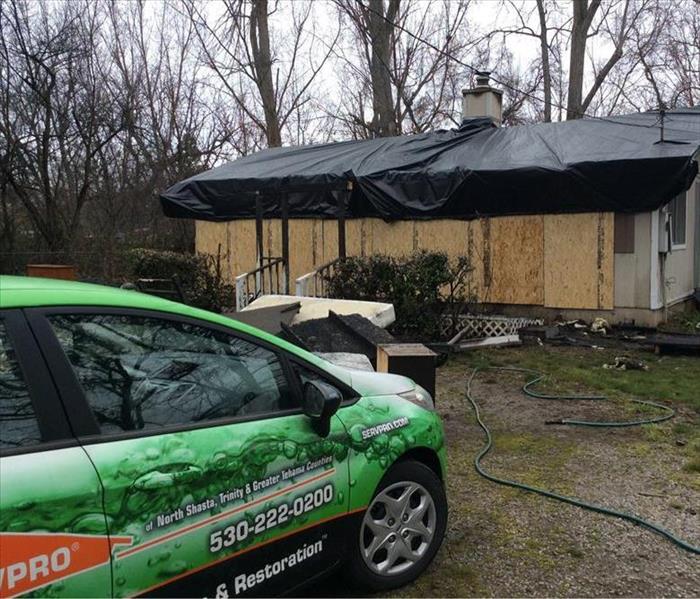 Rain, Ice, Storm, Snow Damage to your home? SERVPRO is here for you in Redding, California. Fast Response by Professionals - 530-222-0200
Winter Ice and Water Damage from Northern California Storms
December is upon us and we have experienced the beginning stages of rain and snow accumulations. January, February and into 2019 will bring the heavy onset of Winter beauty and the ravages of high winds, ice, rain, and the resulting storm damage to homes and businesses. As always, SERVPRO of North Shasta, Trinity & Greater Tehama Counties stands ready in catastrophe situations following a disaster across multiple regions.
SERVPRO's STORM response is unmatched in the ability of scale and deploy resources, equipment and personnel at a moments notice to water and fire damaged and ravaged local communities such as what we saw with the Carr Fire in Redding and now with the Camp Fire destroying Paradise and affecting the living conditions of thousands in Butte County.
Temperature drops from freezing cold cause water pipes to freeze and crack. Ice expansion through melting and refreezing in roof structures damages shingles, crawl spaces and overall structural integrity. SERVPRO's experience and quick response servicing commercial businesses and residences in Shasta, Trinity & Tehama Counties is focused on saving property and reducing insurance claims.
Follow these winter tips:
Caltrans warns motorists to check their brakes, tires and windshield wipers, and make sure their vehicle's defroster, heater and exhaust system are in good condition.
Caltrans road advisories suggests motorists add special winter solvent to their windshield-washer reservoir to prevent icing.
Check your vehicles to ensure they have plenty of antifreeze. Vehicle tires require sufficient tread for icy and slick conditions.
Fill you gas tank before travelling.
If possible, avoid road travel altogether.
Caltrans also recommends motorists take water, food, warm blankets and extra clothing in case of long delays.
Go to http://www.dot.ca.gov/cttravel/chain-controls.html for chain requirements and installation information. Go to the District 2 Winter Maintenance and Operations web page at www.dot.ca.gov/dist2/chainup/winmaint.htmfor more winter driving and preparation tips.
Also, local Redding weather forecasts are at these links:
http://krcrtv.com/weather/radar
https://www.wrh.noaa.gov/mfr/HAZARD
During our winter storms frost and freezes in higher mountain elevations will endure considerably colder temperatures and longer freezing conditions than the lower Redding areas of the Shasta Basin. Polar and arctic air masses move South into Northern California from central Canada. These dry and cold arctic blasts along with strong winds produce property damage from fallen trees and already weakened building materials.
(530) 222-0200