Water and Rain Dry Out – SERVPRO Fast Moisture Evaporation for Healthy Living
11/14/2018 (Permalink)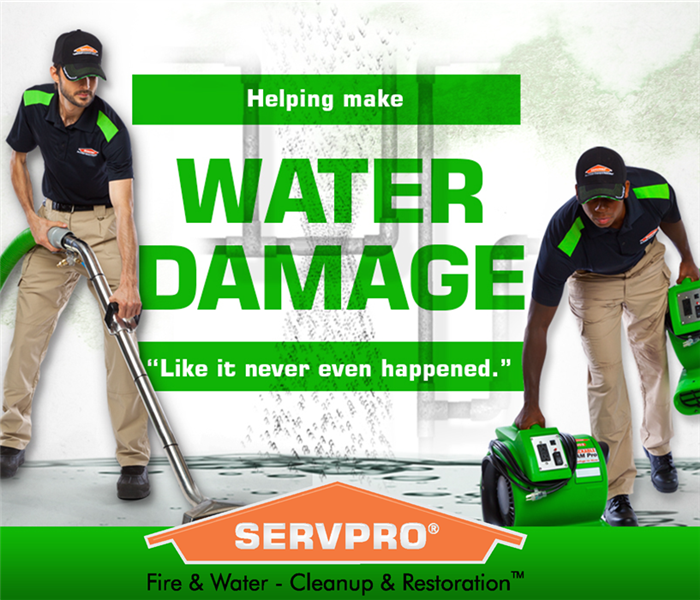 Water Damage? Call Us at 530-222-0200. Your trusted Redding, California area flood, water, storm and rain damage clean up choice!
Redding, California - Our 24/7 – 365 fast response to your water damage cleanup is essential to minimize damage, save possessions, and prevent additional mold growth.
530-222-0200
SERVPRO of North Shasta, Trinity & Greater Tehama Counties can deal with the smallest home water leak to large-loss commercial flood damage from thousands of gallons of water. We quickly respond to all water damage emergencies with IICRC Certified Water Restoration Technicians, state of the art equipment, necessary drying equipment and a proven customer-first SERVPRO game plan. Upon arriving at your home or business, our SERVPRO water restoration professionals will perform an extensive water damage inspection using moisture metering and infrared cameras to map the extent of water damage.
We are locally owned and operated serving the Northern California region including Redding, Weaverville, Anderson, Red Bluff, Corning, Orland, Willows, Dunsmuir, Yreka, Weed, Mt. Shasta, Shasta Lake, Burney, Igo, Happy Valley and many more.
Visit us on Facebook: @SERVPRONorthShastaTrinityGreaterTehamaCounties
Visible water loss is only the tip of the iceberg. Carpet, tile cracks and holes in the wall, loose hardwood flooring, concrete; these all suck in water to flooring mats and drywall. An important first step in any water loss emergency is to identify the source (class) and pollution (category) of water. Based on that inspection, our technicians create a water restoration plan for your property, explain the process, and answer your questions. SERVPRO of North Shasta, Trinity & Greater Tehama Counties works with your insurance company every step of the way.
2-hour on-site assistance 24/7/365.
Structural drying and water removal.
Insurance claim, agent and adjuster assistance.
Restoring your home or business to a preloss condition.
Specialized document drying
Content cleanup, packing, and storage
Uncover hidden water intrusion using state-of-the-art inspection equipment
Water is identified in the restoration industry in two ways. 1. Where is the source and what is the saturation level of the water? 2. What type of water is coming from the source?
Class 1 Water – A slow evaporation rate typically from a drip or slight water line break. Seepage only affects part of a room or space, carpeting is slightly damp. The key is low permeance rate of surface materials that come into contact with moisture like plywood or concrete.
Class 2 Water - With a fast evaporation rate. Water at this level would affect an entire room including carpeting and furniture cushioning. Moisture will have soaked into structural materials and wall up to 12'
Class 3 Water - This class has the fastest evaporation rate, and ceilings, walls, insulation, carpet, and sub-floors are all saturated. The liquid may have come from overhead.
Class 4 Water - This class is used for special drying situations. The sheer quantity of water combined with time allow for saturation to occur in materials that retain water such as hardwood, brick or stone.
Call Us Today! 530-222-0200
Categories of Water Contamination
The situation worsens as water becomes more polluted. The Institute of Inspection, Cleaning and Restoration Certification (IICRC) classifies water into three categories in its S500 Standard:
Category 1: "Clean Water" - Generally sanitary water – This category includes water that comes from sources that we would consider to be potable or drinkable under normal circumstances such as from burst water pipes, broken supply lines on appliances, or falling rainwater. Category 1 water because it is open to outside conditions becomes increasingly contaminated as it mixes with ground soil or floor coverings and structural materials like subflooring, walls and decks. Time and temperature, of course, cause water to become a welcome breeding ground for bacteria and microorganisms.
Category 2: "Grey Water" - Significantly contaminated water – Water which is recognized as already having some degree of preexisting contamination. Once again, the pollution triangle is water, time and temperature as the state of the water becomes worsened.
Category 3: "Black Water" - Grossly contaminated water - Water which is highly contaminated. Examples would be flood water from overflowing banks of rivers and streams flowing over industrial chemical and toxic waste, ground water flooding into homes and, of course, broken and open flows of sewage.
Our goal is to whenever possible save and restore your water damaged household belongings.
We will work with you and your insurance company, agent and adjuster determine what is salvageable and restorable. Items to be restored are carefully, stabilized and packed by SERVPRO of North Shasta, Trinity & Greater Tehama Counties inventory specialists to facilitate the cleaning of individual contents. Our document drying process, in fact, uses a "freeze dried" methodology to stop any further moisture damage and save important and irreplaceable documents.
Water extraction is a strategic and highly scientific process initiated by our on-site emergency technicians to quickly stop any further water damage at the source and begin the restoration process. We match our extraction process to the specific category and class of water and the types of water affected building materials. Removing standing water in visible and hidden areas is only the first piece of the extraction puzzle. Water evaporates and fills the internal air space with moisture and also mold spores and bad odor. We calculate the number and strategically place throughout the home or business SERVPRO HEPA air cleaners and dehumidification equipment as necessary to completely sanitize and purify both surfaces and air.
We follow an IICRC "Standard of Care". Which means that our drying equipment is monitored and remains in place until the water damaged property has be dried to a recognized industry standard. When SERVPRO of North Shasta, Trinity & Greater Tehama Counties quickly arrives on-site a project lead takes the helm and maintains oversite of daily moisture readings of relative humidity and variations in levels of structural moisture to make a determination of complete water damage restoration. Using advanced moisture reading technology our SERVPRO professional will make necessary adjustments to equipment settings to maximize drying at the fastest speed possible.
The key to reducing mold growth is fast water drying. Our state-of-the-art drying techniques are trusted restoration industry best practices for successfully creating a drying system that maintains balanced moisture reduction, airflow increase and optimizes temperature. Introducing into this process an odor cleaner and sanitizing microbial agent produces the clean and fresh surfaces and air quality that SERVPRO of North Shasta, Trinity & Greater Tehama Counties is known through the Redding and Northern California region for achieving.
Call Now! 530-222-0200