Why SERVPRO? – Trust, Compassion and Communication
10/24/2018 (Permalink)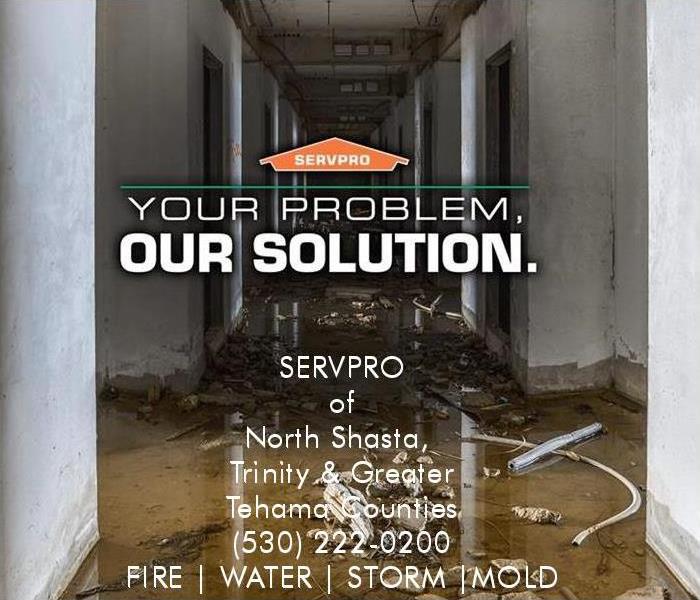 Why SERVPRO? Because we care. We are locally owned and operated here in Redding, California. Call us now at 530-222-0200 for a fast response.
SERVPRO of North Shasta, Trinity & Greater Tehama Counties has been redefining the mold, fire and water restoration industry in Shasta County. 530-222-0200
The sheer volume of fire and water damage emergency resources, capabilities and expertise we bring to our local Redding community is nothing short of amazing. Because we are part of the nationally recognized SERVPRO brand our training of home and business owners, insurance and real estate agents and property managers, at a regional level exponentially increases through our ability to utilize the national scope of mitigation and restoration training through the vast experience of 1700 SERVPRO franchise professionals. What this means for Redding residents is that when you choose SERVPRO, you choose the best!
SERVPRO Performance Guidelines
Our SERVPRO technicians are trained professionals and certified in Fire Restoration, Water Restoration, Carpet and Upholstery Cleaning, Mold Removal, Biohazard, Truama and Crime Scene Clean Up Also, as one of the nation's leading providers of restoration services, SERVPRO has developed the most extensive performance guidelines in the industry. As a Redding, California SERVPRO Franchise we adhere to over twenty different guidelines to receive insurance client referrals from the likes of Farmers, State Farm, AllState, USAA and dozens of others. From insurance to background checks on employees, each requirement is maintained continually to help ensure our Shasta County and Northern California customers get the best possible service.
Transparent Job Documentation and Customer Communication
When you originate your contact at SERVPRO of North Shasta, Trinity & Greater Tehama Counties, your referral gets tracked and reported at each step of the work process. We follow IICRC fire, water, mold and standardized restoration industry cleaning procedures. Our SERVPRO water drying workbook provides complete industry standard validation. The "DryBook" as we call it is a trackable and transparent documentation pipeline so our customers can stay informed on daily job progress and status reports. Proper equipment utilization and drying validation is a part of every job file when you call 530-222-0200 and use us as your vendor of choice. From the first notice of loss and the cause of the claim to response times and ongoing job status details; we provided the most comprehensive mitigation reporting data available.
Read our happy customers reviews on Facebook, Yelp and Google
Trust SERVPRO of North Shasta, Trinity & Greater Tehama Counties to do the job right. The results from our years of experience helping home and commercial business owners effectively and quickly stop, clean and restore the most harrowing fire, biohazard, trauma, crime scene, water and mold damage disasters speak for themselves. We are available and on-call every hour and every day to provide answers and on-site SERVPRO experts, equipment and peace of mind.
Your emergencies are our emergencies met with courtesy, compassion and trust.
Call Us Now! 530-222-0200