Carr Fire Water Damage, Winter Rain Storms, Ash and Toxic Debris Flooding
9/11/2018 (Permalink)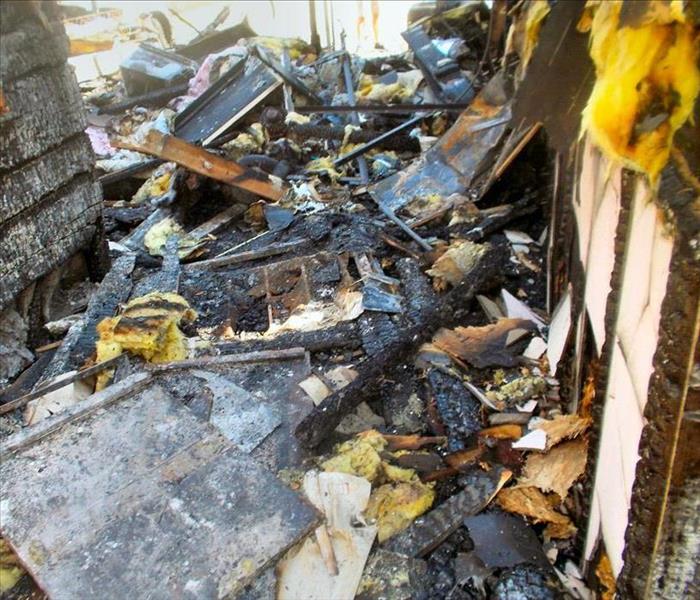 Rain & Winter Storm Water mixed with Fire and Smoke Damage creates Acidic and Toxic slurry. Contact SERVPRO - 530-222-0200
The Carr Fire catastrophic wildfire season of 2018 has produced a scorched earth effect upon the recreational Whiskeytown wilderness as well as long term residual toxic debris and ash accumulation in Shasta County neighborhoods.
The City of Redding has put together a resource website for debris removal at www.shastareddingrecovers.org.
CalRecycle and the California Department of Toxic Substances Control are orchestrating a massive "opt-in" undertaking working with homeowner who have suffered devastating fire-loss to quickly assess and remove toxic waste – essentially burned metal and toxic chemicals within a property owners ash footprint. Northern California severe weather rain storm systems will very soon produce downpours in our area.
An important point to understand is that when CalRecycle physically removes a home owners fire damaged cement foundation as well as possibly removing several inches of toxic earth what is left is not necessarily flat earth. There will be a depression in which the soon coming rain storm water will fill and provide a toxic gray ash sodden reservoir for runoff.
Our hot smoke-filled Shasta Summer with very little wind in a few short weeks will possibly experience water saturated ash pools and flooding from wildfire brush and vegetation scraped landscapes. Of concern are property owners who have not opted-in to the county debris removal programs and are left with unfinished soot filled plots exposed to now water damaged contents and toxic storm runoff.
Flash floods depend on several factors:
The severity and expanse of the fire.
Mountainous and steep terrain which produces culverts and fire-scarred drainage.
The volume of rain.
Looking at the Carr Fire we can say a resounding "Yes" to all three given past Redding severe weather precipitation experiences this time of year. In fact, Thunderstorms that develop over burn areas can produce flash flooding and debris flows nearly as fast as National Weather Service radar for Shasta County can detect the rainfall. We urge home and property owners to start preparing now. Water can enter through roof and siding gaps made worse by exposure to wildfire heat. Leaking water brings with inside the wet toxic and acidic outside uncleared ash and soot.
RECOMMENDATION: Because of the severity of Carr, Hirz Fire and other local fires the smoke penetration and ash accumulation into residences has been severe. The first step is to contact a local Redding restoration provider like SERVPRO of North Shasta, Trinity & Greater Tehama counties to perform a fast on-site assessment to wipe down and clean these smoke and ash covered contents, ceilings and interior / exterior walls.
(530) 222-0200
Recognize that it only takes one-half inch of rain water to produce flooding under the right conditions of storm runoff and terrain. Any left-over ash piles will turn into a toxic slurry with the potential to merge directly into Sacramento River affecting downstream environmental impact areas. The key is to evaluate property, terrain and points where unseen pools of water will accumulate.
Call Us Now for questions answered and a community trusted fast emergency response for any water or storm damage related event. SERVPRO – 530-222-0200 Available 24/7 - 365